vegan cinnamon swirl cake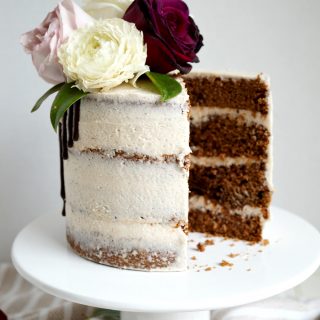 Author:
Valentina | The Baking Fairy
Recipe type:
Breads & Loaf Cakes
*for the cake*
2 tbsp ground flaxseed + 6 tbsp water
½ cup granulated sugar
½ cup packed dark brown sugar
1¾ cup all-purpose flour
1½ tsp baking powder
1 tsp baking soda
½ tsp salt
1 tbsp ground cinnamon
¼ cup vegan butter, at room temperature
⅓ cup nondairy yogurt
¼ cup vegetable oil
1 tbsp vanilla extract
⅔ cup unsweetened nondairy milk
*for the swirl*
2 tbsp ground cinnamon
1 tbsp dark brown sugar
1 tbsp granulated white sugar
*for the frosting*
½ cup vegan butter
½ cup vegan shortening
3-4 cups powdered sugar
1 tsp vanilla extract
1 tsp ground cinnamon
2-3 tbsp unsweetened nondairy milk, as needed
*for the ganache*
3 oz dark chocolate
2-3 tbsp nondairy milk, more or less as needed
First, make the cake. Preheat oven to 350F and spray two 6" round cake pans with nonstick baking spray.
In a small bowl, whisk together the ground flaxseed with the water and set aside to thicken.
In the bowl of a stand mixer, combine the flour, baking powder, baking soda, salt, cinnamon, brown sugar and white sugar.
Add in the vegan butter, and beat on low until it's incorporated and has a sandy texture.
In a small bowl, whisk together the oil, flaxseed mixture, nondairy yogurt, vanilla extract, and add them to the dry ingredients. Mix until combined.
Pour in the unsweetened nondairy milk, and beat on medium-low until smooth and creamy.
In a small bowl, combine the cinnamon and sugars for the swirl.
Divide batter evenly among the 2 pans, and sprinkle on the cinnamon mix on top. Using a knife or toothpick, swirl it within the batter. Bake for 45 minutes until cake is set in the center and a toothpick comes out clean.
When ready to assemble, prepare the frosting for the cake. Using a stand mixer, beat together the rest of the vegan butter and shortening. Add in the vanilla and cinnamon, and add in powdered sugar as needed to create a thick frosting. You can add a few spoonfuls of nondairy milk if it's too thick.
To assemble the cake, divide the 2 cake layers in half to create 4 thin layers.
Place one cake piece on your cake stand or platter, spoon some frosting in the center, and spread it to create a thin layer. Repeat with all.
Frost the outside of the cake with the rest of the frosting as desired. Place cake in fridge while you prepare the ganache.
Place the chocolate in a microwave safe bowl and heat in 15-20 second increments until melted. Add in nondairy milk as needed, stirring well, until ganache is smooth and creamy. If it appears lumpy or grainy, don't worry! Just add more milk and keep stirring. It will come back together!
Drizzle the ganache on top of the cooled cake, and decorate the top with fresh flowers. Enjoy!
Recipe by
The Baking Fairy
at https://www.thebakingfairy.net/2019/04/vegan-cinnamon-swirl-cake/