vegan stuffed poblano peppers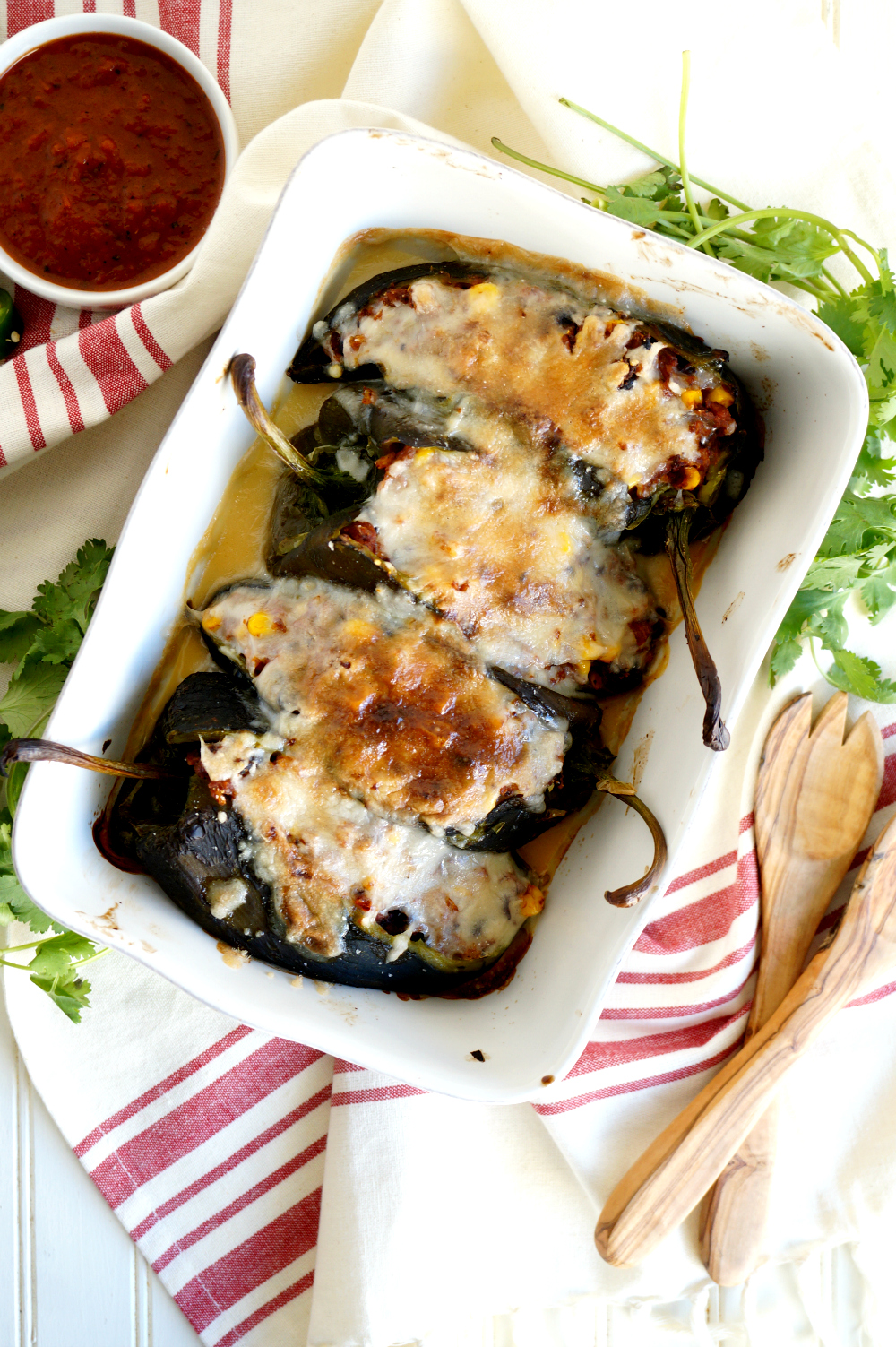 Author:
Valentina | The Baking Fairy
6 poblano peppers
2 tsp olive oil
1 can black beans, rinsed and drained
½ onion, chopped
1 tomato, chopped
½ cup corn
½ cup vegan chorizo crumbles
1 cup cooked brown rice
1 tsp garlic salt
½ tsp garlic powder
½ tsp onion powder
¼ tsp smoked paprika
1 tsp cumin
½ tsp Mexican oregano
vegan cheese, for topping
First, turn your oven on to broil. Wash and dry your poblano peppers, place them on a foil-lined baking sheet, and place under the broiler.
Cook, flipping every few minutes, until the skins have turned black and blistered, and the peppers are soft. Remove from oven, and wrap up into the foil to help the steam soften them further. Set aside for now.
To make the filling, heat the olive oil to medium-high in a large pan. Add in the chopped onion and cook, stirring often, until softened and translucent.
Add in the vegan chorizo, black beans, tomato, and corn. Turn heat to medium and continue to cook, stirring often. You can add a bit of water if the mixture is getting too dry.
When everything is heated through, mix in the cooked brown rice and finally all the spices. Add more salt to taste.
Now, preheat oven to 425F and lightly grease a 9x13 baking dish.
Grab the poblano peppers you broiled earlier, and carefully peel off the blistered skins. Cut open the peppers, and remove the seeds from the inside.
Place the peppers in the baking dish, then fill with the prepared filling. Top with vegan cheese if desired, and bake for 20 minutes, until bubbly and golden brown. You can turn on the broiler for the last 1-2 min for a crunchier topping.
Serve with salsa, avocado, and fresh cilantro. Enjoy!
Recipe by
The Baking Fairy
at https://www.thebakingfairy.net/2019/05/vegan-stuffed-poblano-peppers/