vegan birthday cake oreo cupcakes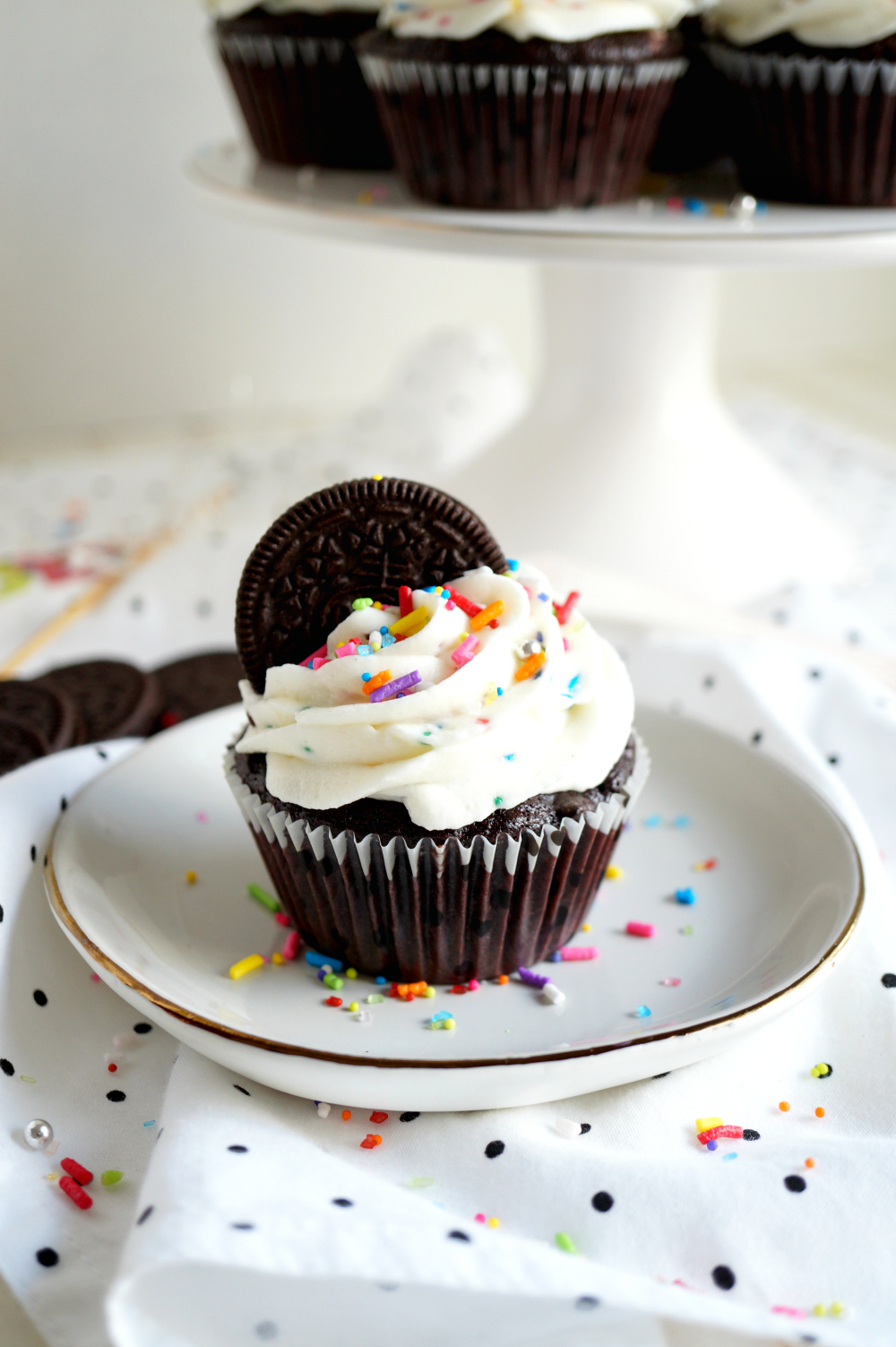 Author:
Valentina | The Baking Fairy
*for the cupcakes*
1¼ cups all-purpose flour
1 cup white granulated sugar
½ cup cocoa powder
1 tsp baking powder
½ tsp baking soda
¼ tsp salt
1 cup unsweetened vanilla almond milk
⅓ cup vegetable oil
2 tbsp white vinegar
1 tbsp vanilla extract
18 whole Birthday Cake Oreo Cookies
crushed Oreo cookies to add to batter
*for the frosting*
½ cup shortening
¼ cup vegan butter
3 cups powdered sugar
2 tsp vanilla extract
1 tsp almond extract
pinch of salt
¼ cup rainbow sprinkles
2-3 tbsp of nondairy milk if needed, to thin frosting
*for topping: Oreo halves and rainbow sprinkles
Preheat the oven to 350F. Line a cupcake pan with 18 liners, and place an Oreo cookie in the bottom of each. Set aside.
In a large bowl, whisk together the flour, cocoa, sugar, salt, baking powder, and baking soda.
Add in the almond milk and oil, and mix vigorously. Add in the vinegar and vanilla, and mix until well combined. Finally, stir in the crushed Oreo pieces.
Divide batter evenly among the prepared liners, filling each cup about ⅔ of the way.
Bake for 18-20 minutes, until a toothpick inserted in the center comes out with just a few crumbs.
While the cupcakes cool, make the frosting.
In the bowl of a stand mixer, beat the shortening, vegan butter, vanilla extract and almond extract together until completely smooth and creamy. Add in the powdered sugar, 1 cup at a time, until a thick frosting forms. If frosting appears too thick or lumpy, add a few spoonfuls of nondairy milk until it smooths back out. Finally, stir in the rainbow sprinkles.
To decorate, I used an open-star tip and piped swirls on each cupcake. Top with half an Oreo, and more rainbow sprinkles. Enjoy!
Recipe by
The Baking Fairy
at https://www.thebakingfairy.net/2019/06/vegan-birthday-cake-oreo-cupcakes/