no-bake strawberry shortcake ice cream pie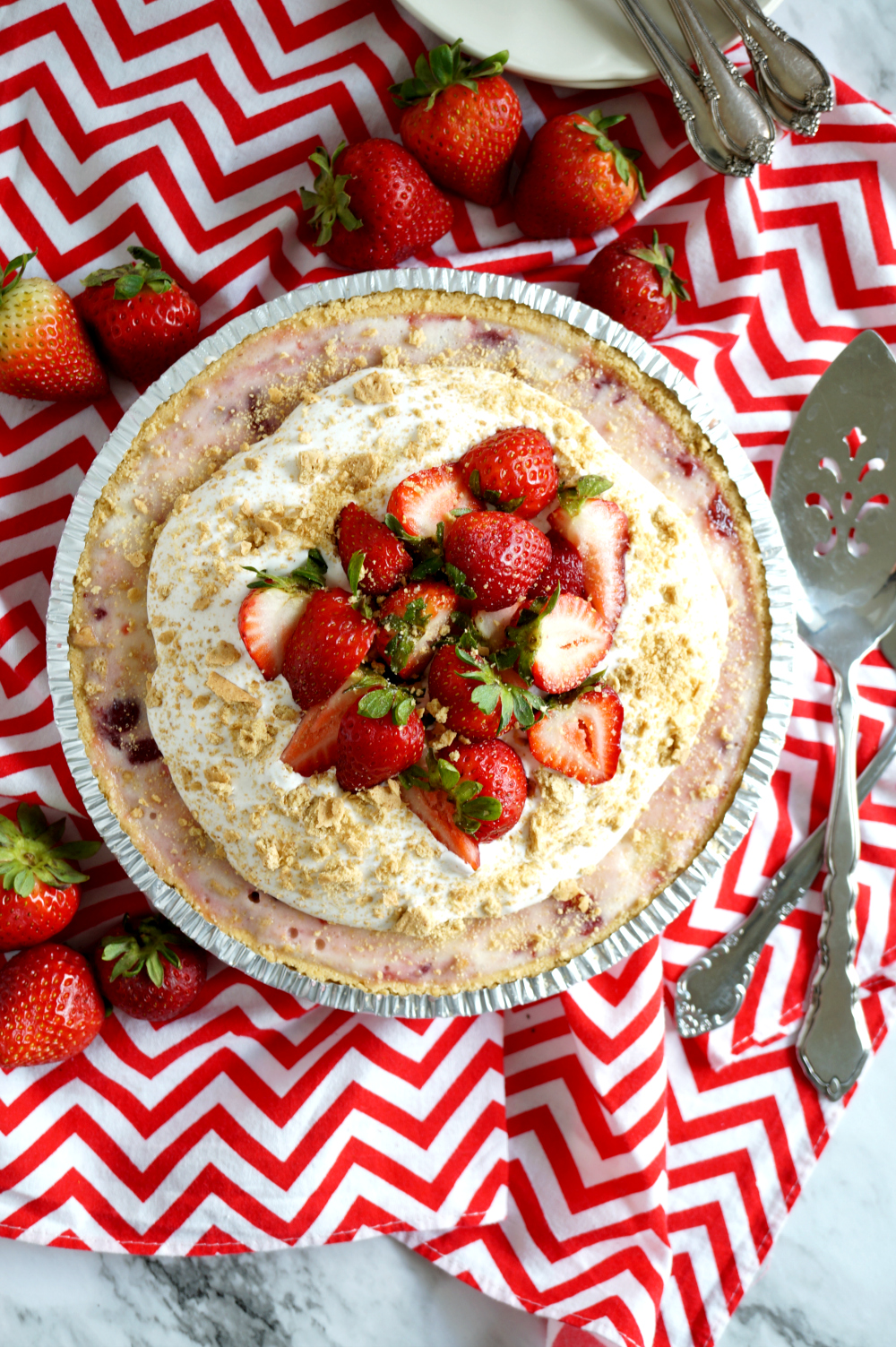 Author:
Valentina | The Baking Fairy
Recipe type:
Pies & Tarts
*for the strawberry sauce*
½ cup chopped strawberries
¼ cup white granulated sugar
¼ cup water
*to assemble*
1 store-bought graham cracker pie crust
1 quart vanilla ice cream
crushed graham crackers (just 1-2 sheets is plenty)
1 contained frozen whipped topping, thawed
fresh strawberries, for garnish
First, prepare the strawberry compote. In a medium nonstick pot, combine the chopped up strawberries, sugar, and water.
Turn heat on medium and cook, stirring often, until strawberries are broken down and jammy, and mixture appears thick. Remove from heat and let it cool off completely before using. It will thicken more as it cools off, too!
To assemble, first let the ice cream soften a bit.
Grab your graham cracker crust, and spoon some of the ice cream into the bottom. Add spoonfuls of the strawberry compote on top, and sprinkle some crushed graham crackers. Using a spoon, gently swirl the ice cream and strawberries together.
Repeat layers until the crust is full, being sure to press down firmly with the back of a spoon to ensure there are no air pockets.
Place ice cream pie in freezer to solidify, at least 3-4 hours.
When ready to serve, spoon the thawed frozen topping on top of the pie, add the fresh strawberries on top, and sprinkle with a little more of the crushed graham crackers. Slice and enjoy!
Recipe by
The Baking Fairy
at https://www.thebakingfairy.net/2019/07/no-bake-strawberry-shortcake-ice-cream-pie/