homemade blueberry lime margaritas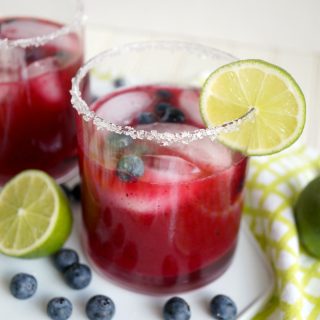 Author:
Valentina | The Baking Fairy
*for two margaritas*
½ cup fresh blueberries
2 oz fresh lime juice (about 2-3 limes)
4 oz silver tequila
1 oz Cointreau (or other orange liqueur)
3 oz agave syrup
First, rinse and dry the blueberries. Add them to a blender, followed by the rest of the ingredients. Blend until smooth.
Next, pass the mixture through a fine strainer to get rid of most of the blueberry seeds and pulp.
For a frozen margarita, return the liquid to the blender and add a few ice cubes, blending until smooth and icy. Divide between two glasses.
For a margarita on the rocks, place a few ice cubes in two glasses, and divide the blueberry margarita mix evenly.
For a fun touch, coat the rim of the glasses with lime juice and dip in white sugar.
Enjoy immediately!
Recipe by
The Baking Fairy
at https://www.thebakingfairy.net/2019/07/blueberry-lime-margaritas/