vegan blueberry coconut pie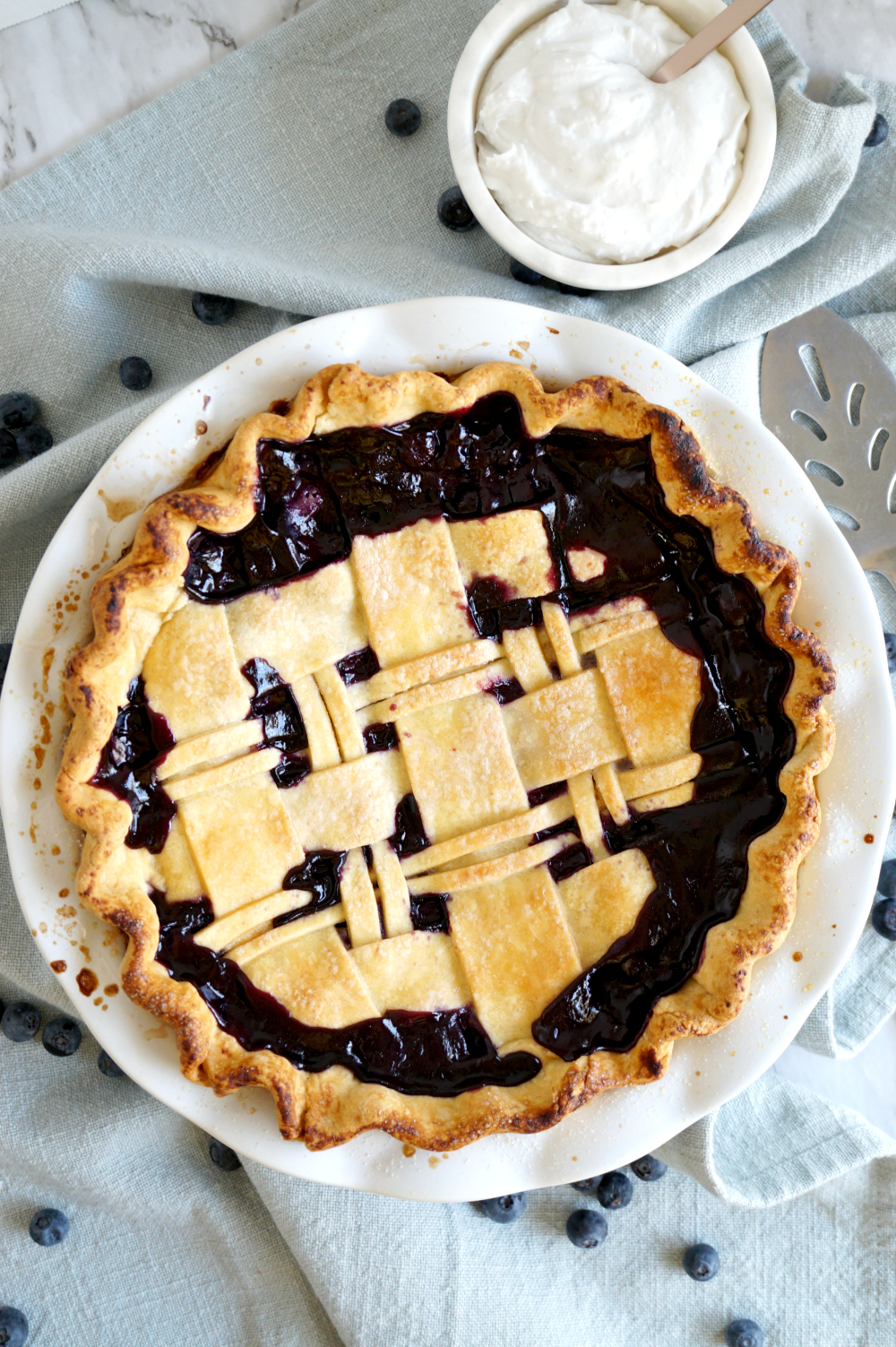 Author:
Valentina | The Baking Fairy
Recipe type:
Pies & Tarts
*for the crust*
2½ cups all purpose flour
½ tsp salt
⅔ cup vegan shortening
¼ - ½ cup cold water
*for the filling*
4 cups fresh blueberries
1 tbsp fresh lemon juice
¾ cup light brown sugar
4 tbsp flour
½ tsp cinnamon
1 cup canned coconut milk
*for finishing*
2-3 tbsp coconut milk
granulated white sugar or turbinado sugar
First, prepare the pie crust.
In a large bowl, combine the flour and salt. Add in the cold shortening and mix in using a pastry blender or your hands. Combine until mixture appears sandy and the biggest pieces of shortening are about pea-sized.
Slowly add in the water, mixing as you go, until dough holds together without being too crumbly.
Divide the dough in half, and pat each piece into a round shape, and wrap in plastic wrap. Place in fridge to chill until needed.
When ready to bake, preheat oven to 375F.
Prepare the filling. In a large bowl, combine the blueberries, lemon juice, brown sugar, flour, cinnamon, and coconut milk. Mix to combine.
Grab one of your prepared pie crusts, and roll it out on a clean working surface sprinkled with some flour.
Place it in your 9" pie dish, then pour in the prepared blueberry mixture.
Place the second pie crust on top as desired. Brush with the remaining coconut milk and sprinkle the sugar on top.
Wrap aluminum foil around the crust to prevent it from burning, and bake the pie in preheated oven for about 25 minutes with it on. Then remove the foil and continue baking for another 30 or so minutes.
The total baking time will be around 50-60 minutes. Pie is done when the crust is golden brown and crisp and filling is bubbling.
Let pie cool for a couple of hours so filling can set. Slice and serve with your favorite vegan vanilla ice cream or coconut whip!
Recipe by
The Baking Fairy
at https://www.thebakingfairy.net/2019/07/vegan-blueberry-coconut-pie/