vegan strawberry peach hand pies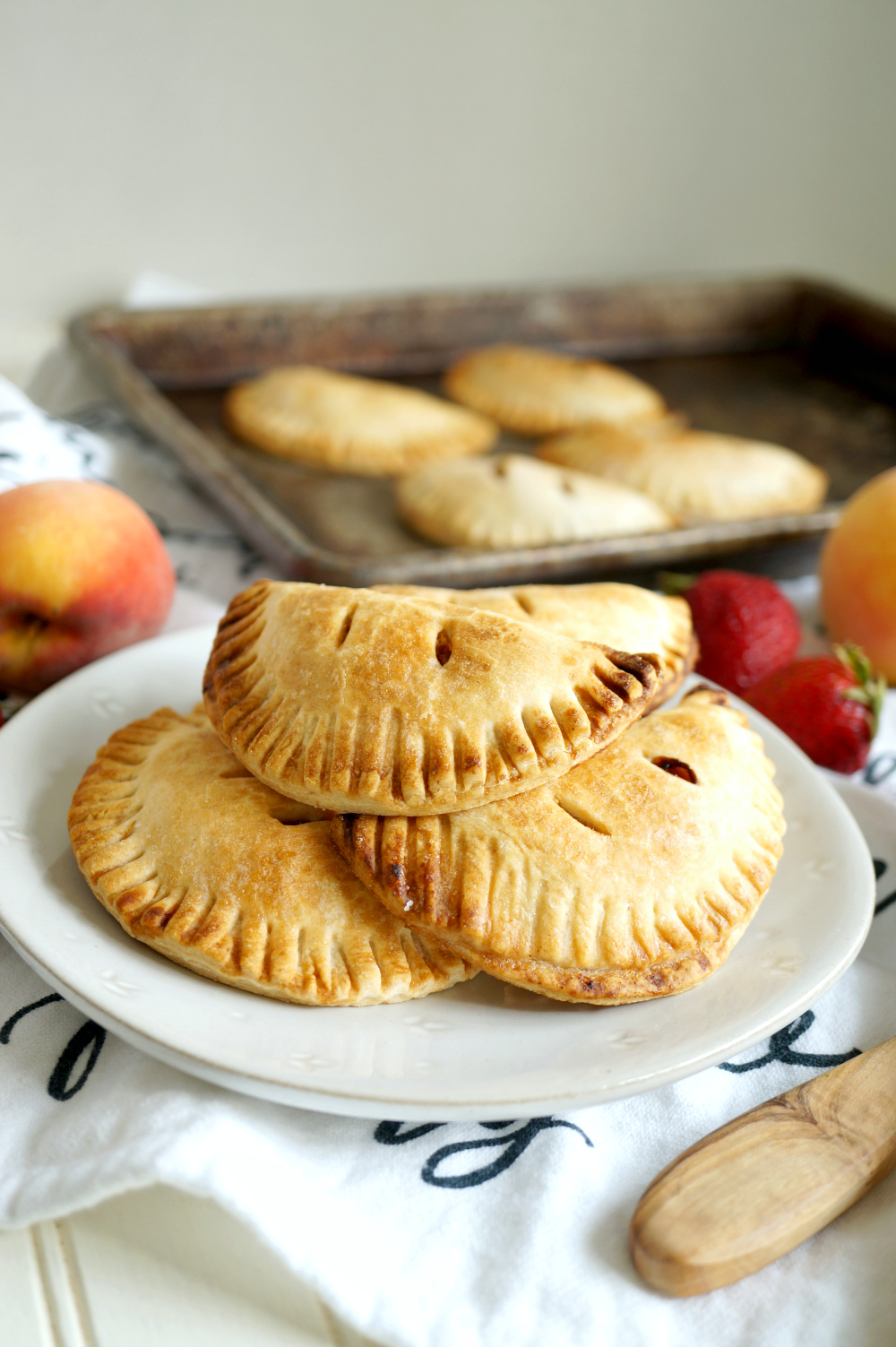 Author:
Valentina | The Baking Fairy
Recipe type:
Pies & Tarts
1 package refrigerated pie crusts (2 crusts)
*for the filling*
½ cup fresh peach chunks
½ cup freshly chopped strawberries
¼ cup brown sugar
1 tbsp cornstarch
½ tsp cinnamon
½ tsp vanilla extract
For finishing: nondairy milk and sugar
Preheat the oven to 350F, and prepare 2 baking sheets with parchment or silicone liners.
First, make the filling. In a medium bowl, mix together the peaches and strawberries with the brown sugar, cornstarch, cinnamon, and vanilla.
Lightly flour a clean work surface, and unroll one of your pie crusts. If desired, lightly roll it out using a rolling pin to make the dough a bit thinner.
Using a large round cookie cutter (or a small bowl), cut out 3.5-4" circles. Be sure to re-knead the dough and roll it out again so you don't waste anything! I was able to get 9 circles from each pie crust. Repeat with your second crust.
Place about 2-3 tsp of filling in the center of each pie. Dip your finger in water, and moisten all around the edge of the crust circle. Fold the pie closed, and use a fork to gently seal it. Repeat with all, and place on the prepared baking sheet as you go.
When all your pies are done, use a sharp knife and make 1-2 small incisions on the top for the steam. Finally, brush them lightly with some nondairy milk, and sprinkle sugar on top.
Bake your hand pies for 25 minutes, until golden brown and flaky. You can finish with 1-2 minutes under the broiler to make them extra golden and pretty.
Recipe by
The Baking Fairy
at https://www.thebakingfairy.net/2019/08/vegan-strawberry-peach-hand-pies/