vegan copycat Hostess cupcakes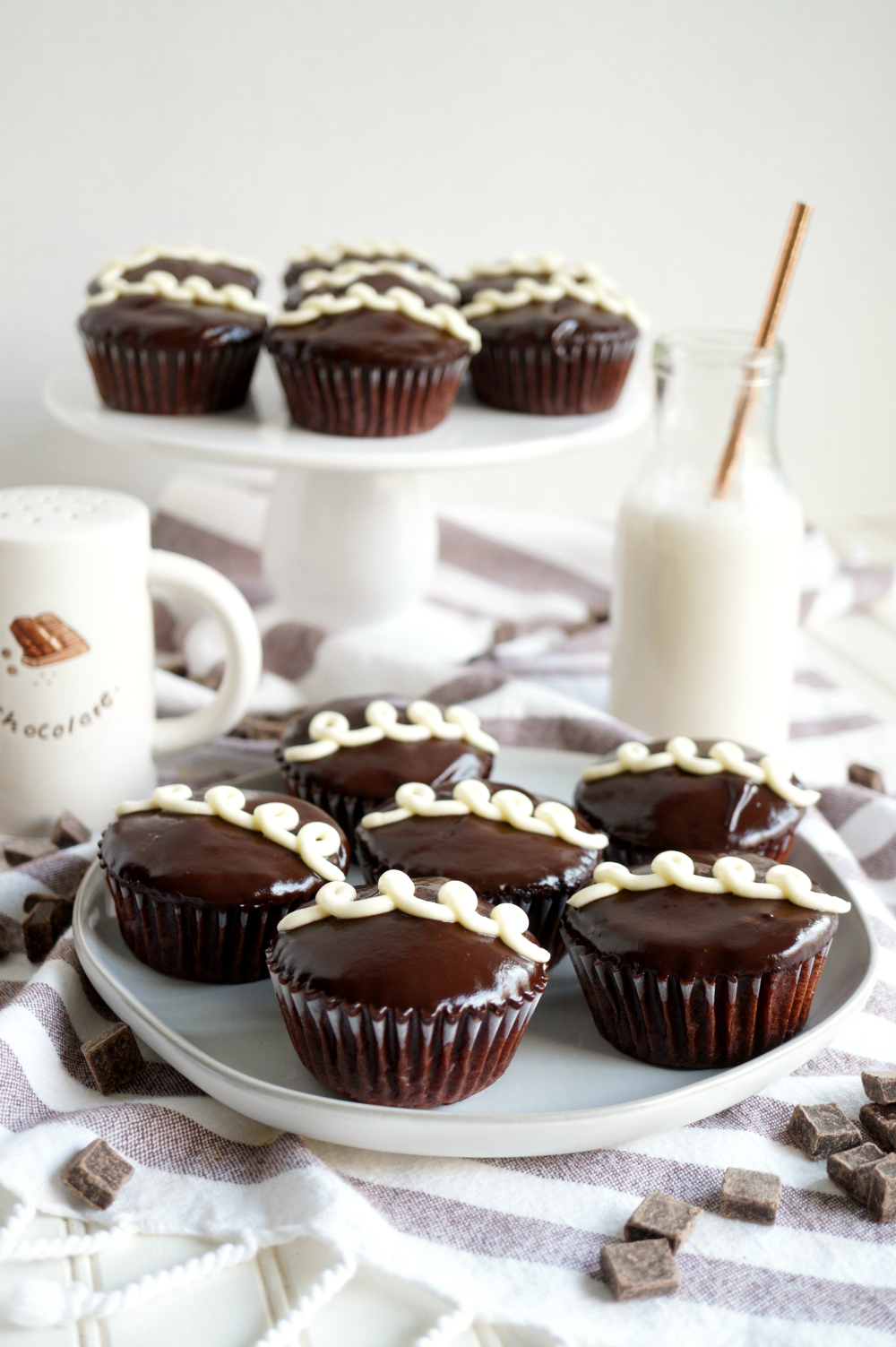 Author:
Valentina | The Baking Fairy
*For the cupcakes*
1¼ cups all purpose flour
1 cup granulated white sugar
½ cup cocoa powder
1 tsp baking powder
½ tsp baking soda
¼ tsp salt
1 cup nondairy milk
⅓ cup vegetable oil
2 tbsp white vinegar
½ tbsp vanilla extract
*for the frosting*
½ cup vegan shortening
¼ cup vegan butter
¼ cup vegan cream cheese
3 cups powdered sugar (plus ¼ cup separated for LATER)
½ tbsp vanilla extract
½ tsp almond extract
pinch of salt
*For the chocolate topping*
½ cup vegan chocolate chips (or chocolate bar broken into pieces)
2-3 tbsp nondairy milk, to thin
Preheat oven to 350F. Place 18 cupcake liners in 2 muffin pans and set aside.
To make the cake, whisk together the flour, cocoa, sugar, salt, baking powder, and baking soda in a large bowl.
Add in the nondairy milk and oil, and mix vigorously. Add in the vinegar and vanilla, and mix until well combined.
Divide the cake batter between the prepared cupcake liners, and bake for 15-17 minutes, until a toothpick inserted in the center comes out with just a few crumbs. Set aside to cool completely before filling.
To make the frosting/filling, combine the vegan butter, vegan shortening, and vegan cream cheese in the bowl of a stand mixer fitted with the paddle attachment. Beat until smooth and creamy, then add in the vanilla and almond extracts.
Mix in the powdered sugar, one cup at a time until frosting is thick and holds its shape.
To fill the cupcakes, you can either use a cupcake corer/small scoop or a frosting tip made specifically for filling. If you are using a small scoop/corer, gently scoop out the top of each cupcake, then fill with the cream, and replace the piece of cupcake back on top.
If you are using a filling tip, fill a piping bag with the frosting. Insert the tip in the center of a cupcake, and gently squeeze as you pull the bag upwards. Be careful not to over-fill as the cupcakes will crack otherwise! Repeat with all. You should have some frosting left over either way.
Now, it is time to make the chocolate topping. Place the chocolate chips/pieces in a small microwave-safe bowl, and add in the nondairy milk. Heat in 20 second increments until chocolate has melted and it's smooth and creamy. You can add more milk until your chocolate is smooth and thin enough to be able to dip cupcakes into it! If you dip a spoon into it and pull it up, it should easily make ribbons. If it falls down in big globs, it is too thick.
To cover the cupcakes, either dip the tops directly into the bowl of chocolate, or use a spoon to spoon the chocolate on top, and use the back of the spoon to smooth it out. Repeat with all.
Finally, let's make the swirly topping. Grab your leftover frosting/filling, and add in some of that reserved powdered sugar to make it thicker. You may not need all of it!
Place the thickened frosting in a piping bag fitted with a small round piping tip (I used a #5). Pipe the swirls on top of each cupcake.
Enjoy immediately and store leftovers at room temperature. Enjoy!
Recipe by
The Baking Fairy
at https://www.thebakingfairy.net/2019/08/vegan-copycat-hostess-cupcakes/