spinach gnocchi with roasted tomato sauce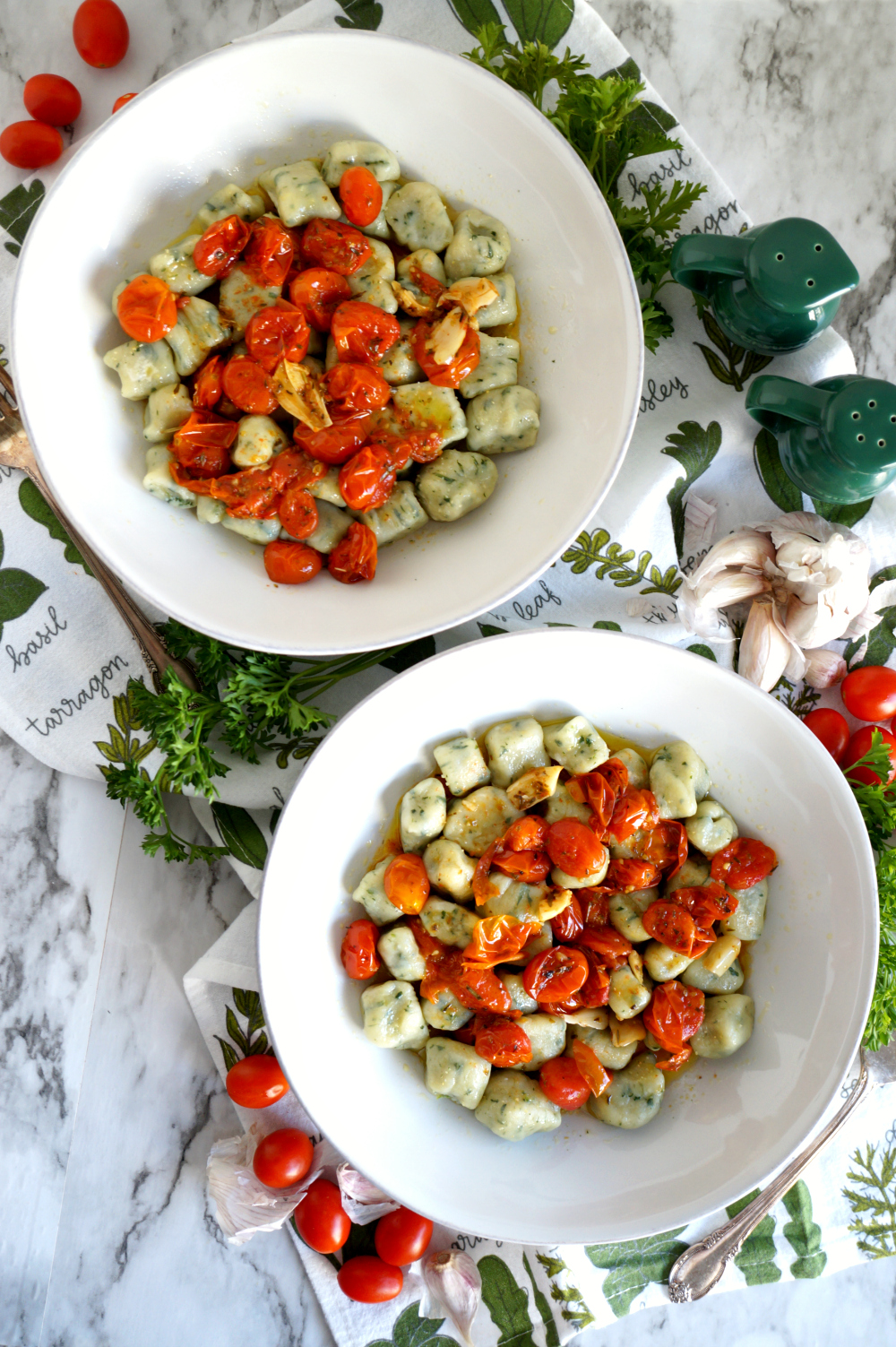 Author:
Valentina | The Baking Fairy
Recipe type:
Pasta & Noodles
2 lbs peeled & cubed Yukon gold potatoes (5-6 medium potatoes)
1 tbsp salt
2 cups fresh spinach
2 - 2½ cups flour (more or less as needed)
*for the sauce*
2 pints cherry tomatoes
2-3 tbsp olive oil
4-5 garlic cloves, peeled and smashed
1 tbsp Italian herbs
1-2 tsp salt
*for serving*
extra virgin olive oil & garlic salt, to taste
First, prepare the gnocchi.
Wash and peel your potatoes, and cut into small cubes.
Place the potatoes in a large pot, and cover with cold water. Add the salt to the pot, and bring to a boil.
Cook potatoes for 10-15 minutes, until a fork easily pierces the potato pieces without much resistance.
While the potatoes are cooking, bring a small pot of water to a boil and add in the spinach. Only cook for about 1-2 minutes, then immediately remove from heat and take the spinach out, placing it into a separate bowl. Set the spinach aside to cool.
When the potatoes are done, drain off the water and mash them (while still warm) with a potato ricer. This will give you the fluffiest and softest gnocchi!
Spinach should be cool enough to handle now. Place it in a kitchen towel, and squeeze all of the water out. There will be a lot! Squeeze until no liquid comes out!
Add your squeezed spinach to the mashed potato mixture, and mix it all together. Add in a sprinkle of garlic salt to season.
Now, start adding the flour, about ½ cup at a time, until the gnocchi mixture starts to come together. It should be soft but not sticky, and easy to handle without it getting stuck all over your hands.
Flour a clean working surface, and knead your gnocchi dough into a loaf.
Now we are ready to make the gnocchi. Prepare 2 baking sheets by lining them with parchment or wax paper, and sprinkling with flour.
Cut off a small piece of your loaf, and roll into a snake, about 1 inch in diameter. Using a butter knife or bench scraper, cut this into 1" pieces to make your gnocchi.
Repeat with all! I find that the inside of the dough is still rather sticky so I found it easier to roll the cut gnocchi in a bit of flour to keep them from sticking to each other.
You can either enjoy the gnocchi you make immediately, or freeze the leftovers. You will freeze them on the baking sheets until solid, then you can transfer them to a large freezer bag for later enjoyment.
When you are ready to eat, make the sauce.
Preheat oven to 425F, and place the cherry tomatoes in an 8x8 oven-safe baking dish. Toss them with the olive oil, garlic, herbs, and salt.
Bake tomatoes for 35-40 minutes, until they have burst and are saucy and caramelized.
To cook the gnocchi, bring a large pot of salted water to a boil.
Add in the gnocchi. Watch carefully, as they are ready as soon as they float to the surface.
Toss the gnocchi with your tomato sauce, and add extra olive oil and seasoning as needed.
Serve immediately!
Recipe by
The Baking Fairy
at https://www.thebakingfairy.net/2019/08/spinach-gnocchi/