vegan autumn kale salad with roasted shiitakes and maple mustard dressing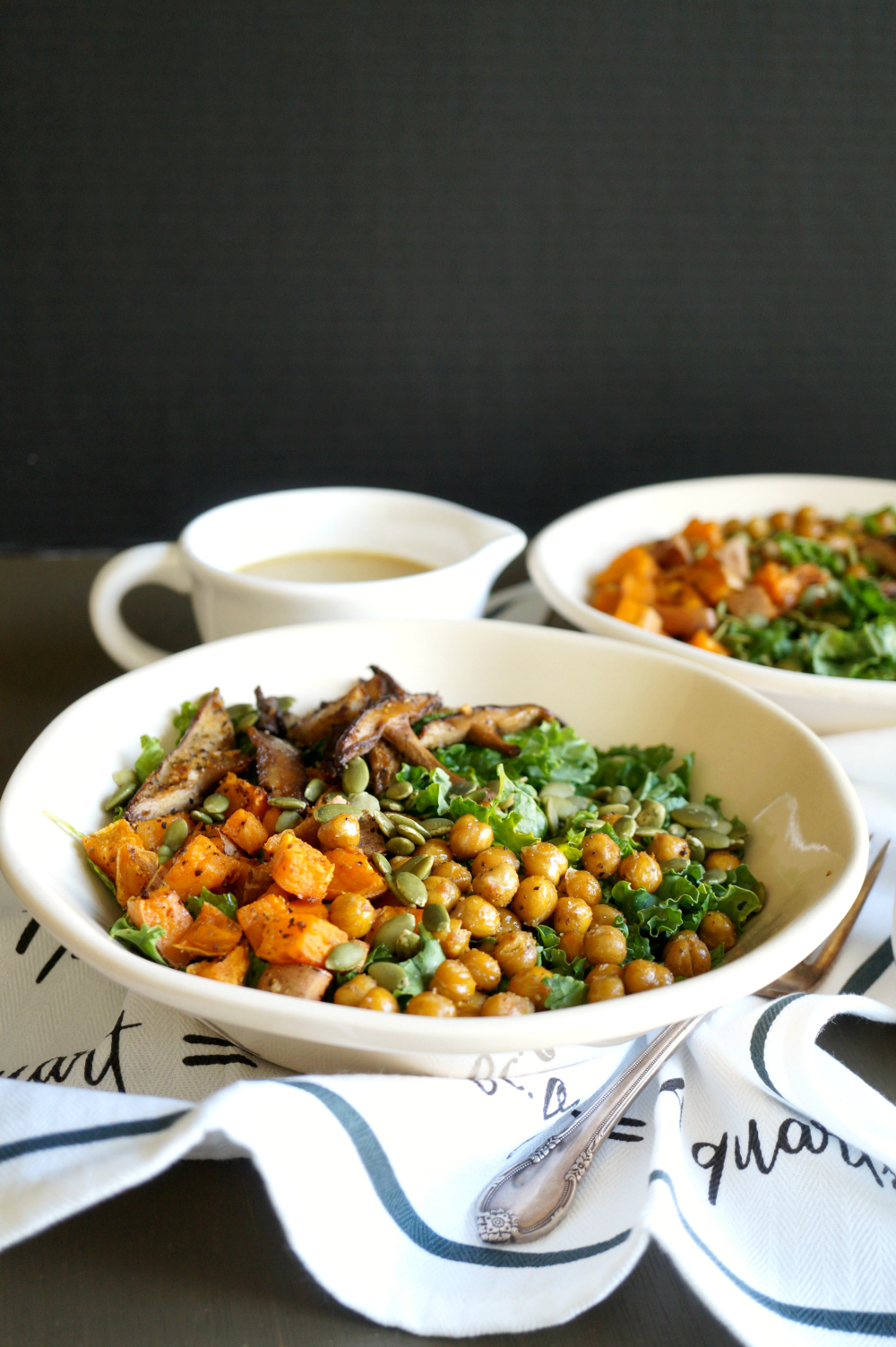 Author:
Valentina | The Baking Fairy
*for the dressing*
2 tbsp dijon mustard
1 tbsp grainy mustard
2 tbsp maple syrup
2 tbsp apple cider vinegar
4 tbsp extra virgin olive oil
½ tsp garlic salt
*for the salad*
1 bunch of fresh kale leaves
1 lb shiitake mushrooms (or mixed mushrooms), rinsed and sliced thick
2 medium sweet potatoes, diced small
1 15oz can of chickpeas, rinsed and drained
1 tbsp olive oil
1-2 italian herb seasoning
salt & pepper to taste
¼ cup pepitas
First, prepare the dressing.
In a medium bowl, whisk together the mustard, maple syrup, and apple cider vinegar. Whisking constantly, slowly drizzle in the olive oil. Be sure to keep mixing so that it can emulsify with the mustard and vinegar and won't "split"! Add the garlic salt, and mix to combine. Set aside as you prepare the rest.
Preheat the oven to 425F, and line two baking sheets with silicone or parchment paper.
Spread the chickpeas out on one of the baking sheets, and the mushroom slices and sweet potato cubes on the other. Drizzle the olive oil over everything, and sprinkle on the Italian herb seasoning and some salt and pepper. Toss to combine.
Roast the veggies in the preheated oven for about 20-30 minutes, until they are golden brown and caramelized. Watch the chickpeas as they usually take a little less time than the rest.
While the vegetables are cooking, prepare the kale. Wash well under running water, and remove the soft leaves from the hard woody stem in the center. Break up the leaves into smaller pieces with your hands. Be sure to squeeze and crush them as you go to help tenderize them and make them easier to eat!!
Be sure to dry your kale leaves off really well before serving. A salad spinner works really well for getting all the excess water out!
When the vegetables are cooked, it is time to assemble. Divide the kale between 4 bowls, and top each with some of the roasted shiitakes, sweet potatoes, and chickpeas. Sprinkle on the pepitas, and finish off with some of the dressing you made. Serve immediately!
Recipe by
The Baking Fairy
at https://www.thebakingfairy.net/2019/09/autumn-kale-salad/