vegan apple almond pancakes with apple maple syrup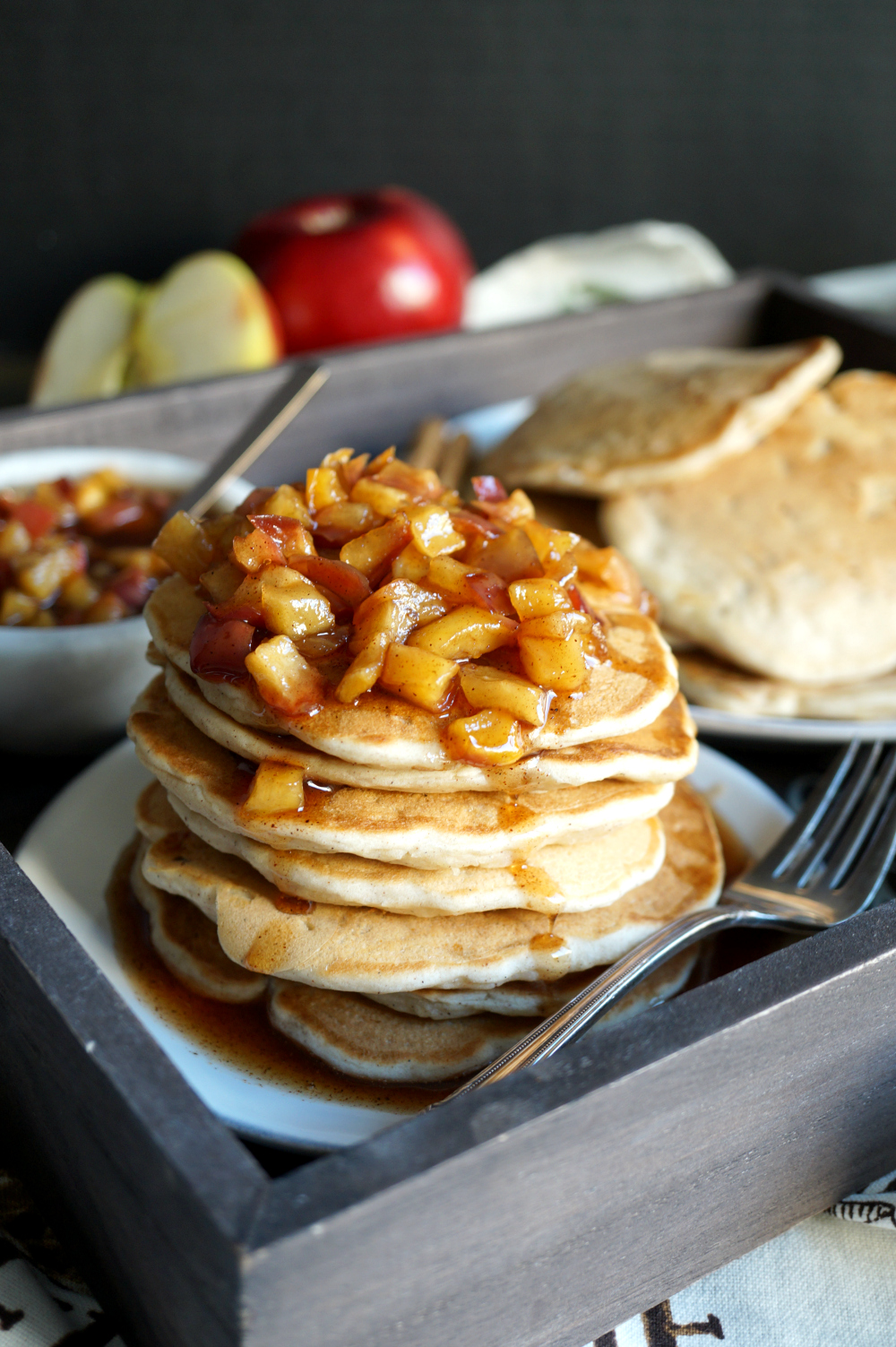 Author:
Valentina | The Baking Fairy
1½ cups nondairy milk (I used cashew)
2 tsp apple cider vinegar
1 cup Bob's Red Mill all purpose flour
¾ cup Bob's Red Mill almond flour
2 tbsp Bob's Red Mill granulated sugar
1 tsp baking powder
¼ cup aquafaba (chickpea brine)
½ tsp Taylor & Colledge vanilla paste
¾ cup diced apples (peeled or unpeeled, whatever you prefer)
½ tsp apple pie spice
*for the topping*
1 apple, diced small (about ½ cup)
1 cup pure maple syrup
First, prepare the apple maple syrup. In a small nonstick pot, combine the diced apple and maple syrup. Heat over medium-low heat and cook, stirring occasionally, until the apples are cooked and soft, and the maple syrup has slightly thickened. Set aside.
To make the pancakes, first mix the nondairy milk and ACV in a small cup. Set aside for a few minutes to make "buttermilk."
Meanwhile, whisk together the flour, almond flour, sugar, and baking powder in a large bowl.
Add in the aquafaba, vanilla paste, apple pie spice, and the milk + vinegar mixture.
Toss in the diced apple, and mix until just combined.
Cook pancakes on a griddle or large pan heated on medium and greased with vegan butter or oil.
Serve immediately with the apple maple syrup topping!
Recipe by
The Baking Fairy
at https://www.thebakingfairy.net/2019/09/vegan-apple-almond-pancakes/