vegan apple cream cheese puff pastry braid #AppleWeek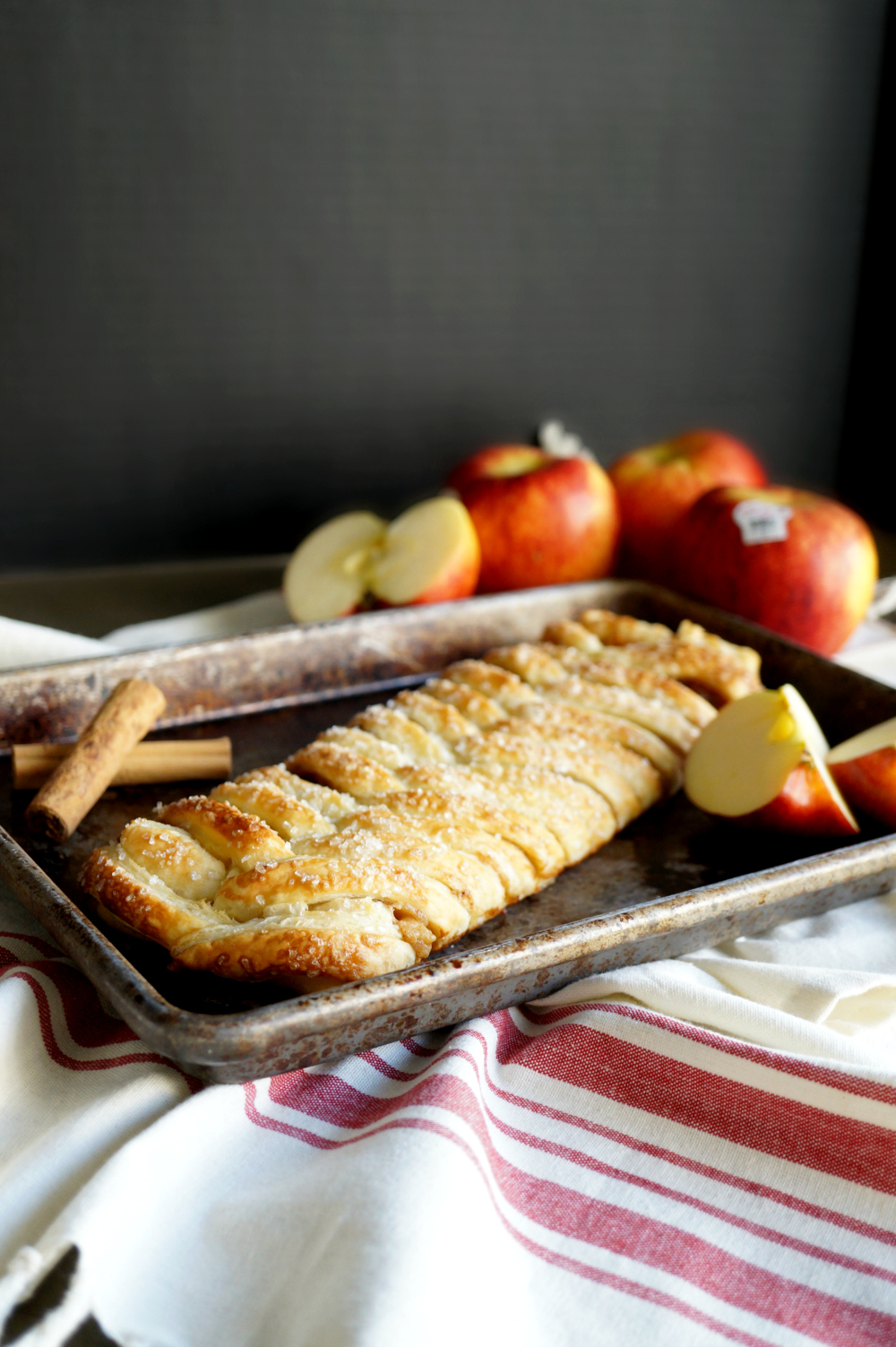 Author:
Valentina | The Baking Fairy
Recipe type:
Breads & Loaf Cakes
1 sheet frozen puff pastry
*for the apple layer*
1 cup diced Envy apples
2 tbsp vegan butter (you can also use coconut oil)
2 tbsp packed dark brown sugar
½ tsp cinnamon or apple pie spice
*for the cream cheese layer*
3 oz vegan cream cheese (my favorite brand is GoVeggie)
2 tbsp packed dark brown sugar
½ tsp Taylor & Colledge vanilla paste
*for finishing*
nondairy milk and sanding sugar
First, set your frozen puff pastry sheet out to thaw so it is easier to handle.
Next, prepare the apple filling. Dice the apples, and place in a small nonstick pot with the vegan butter, brown sugar, and cinnamon/apple pie spice.
Turn heat on to medium-high and cook, stirring occasionally, until the apples are soft and cooked through, and the juices have thickened and caramelized. Set aside for now.
To make the cream cheese portion, simply mix the cream cheese with the brown sugar and vanilla paste in a small bowl.
Now, it is time to assemble! Lay your sheet of puff pastry out on a piece of parchment paper or a silicone pan liner.
Lightly sprinkle flour over the puff pastry, and roll it out a bit using a rolling pin. Generally puff pastry sheets are square - you want to stretch yours out into a rectangle.
Now it is time to trim the pastry so grab your Zyliss knife! Cut small tabs at the top and bottom of the rectangle, the width that the braid will be. Made this about ⅓ of the total width of the pastry.
On the sides, cut 1" diagonal fringes. These will then be overlapped to make the "braid" effect on top. You will have some extra pastry at the top and bottom - discard or save for snacking!
Now, grab your cream cheese mix and spread it all over the middle portion of the puff pastry. Top with the cooled off apple filling.
Fold the top and bottom "notches" onto the filling, then fold each strip towards the center, overlapping and creating a braid effect.
Brush nondairy milk over the whole thing, and sprinkle with sanding sugar. Now - VERY IMPORTANT - place the braid in the fridge for at least 30 minutes to chill.
When ready to bake, preheat oven to 350F. Transfer the braid directly from fridge to oven, and bake for 20 minutes or until golden brown and puffy.
Let cool slightly before slicing and enjoying!
Recipe by
The Baking Fairy
at https://www.thebakingfairy.net/2019/09/apple-cream-cheese-puff-pastry-braid/