hard cider iced tea #AppleWeek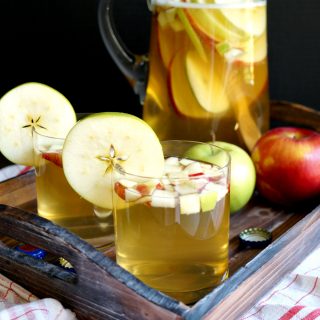 Author:
Valentina | The Baking Fairy
4 Republic of Tea hot apple cider tea bags
4 cups hot water
½ cup Torani Puremade green apple syrup
4 12oz bottles hard cider (I used Wicked Grove)
1 sliced granny smith apple and 1 sliced red apple for serving and garnish
First, prepare the tea. Heat up the water in a microwave-safe bowl or on the stove. Add in the tea bags, and steep for 5-7 minutes. Remove tea bags, and add some ice cubes to bring the temperature down. Alternatively, you can make the tea ahead of time so it has time to cool off!
When read to serve, pour the cooled tea into a large pitcher, followed by the Torani apple syrup and 4 bottles of hard cider. Mix to make sure the syrup is well-incorporated.
Add in the apple slices for decor, and serve!
Recipe by
The Baking Fairy
at https://www.thebakingfairy.net/2019/09/hard-cider-iced-tea/