vegan savory stuffed pumpkins #PumpkinWeek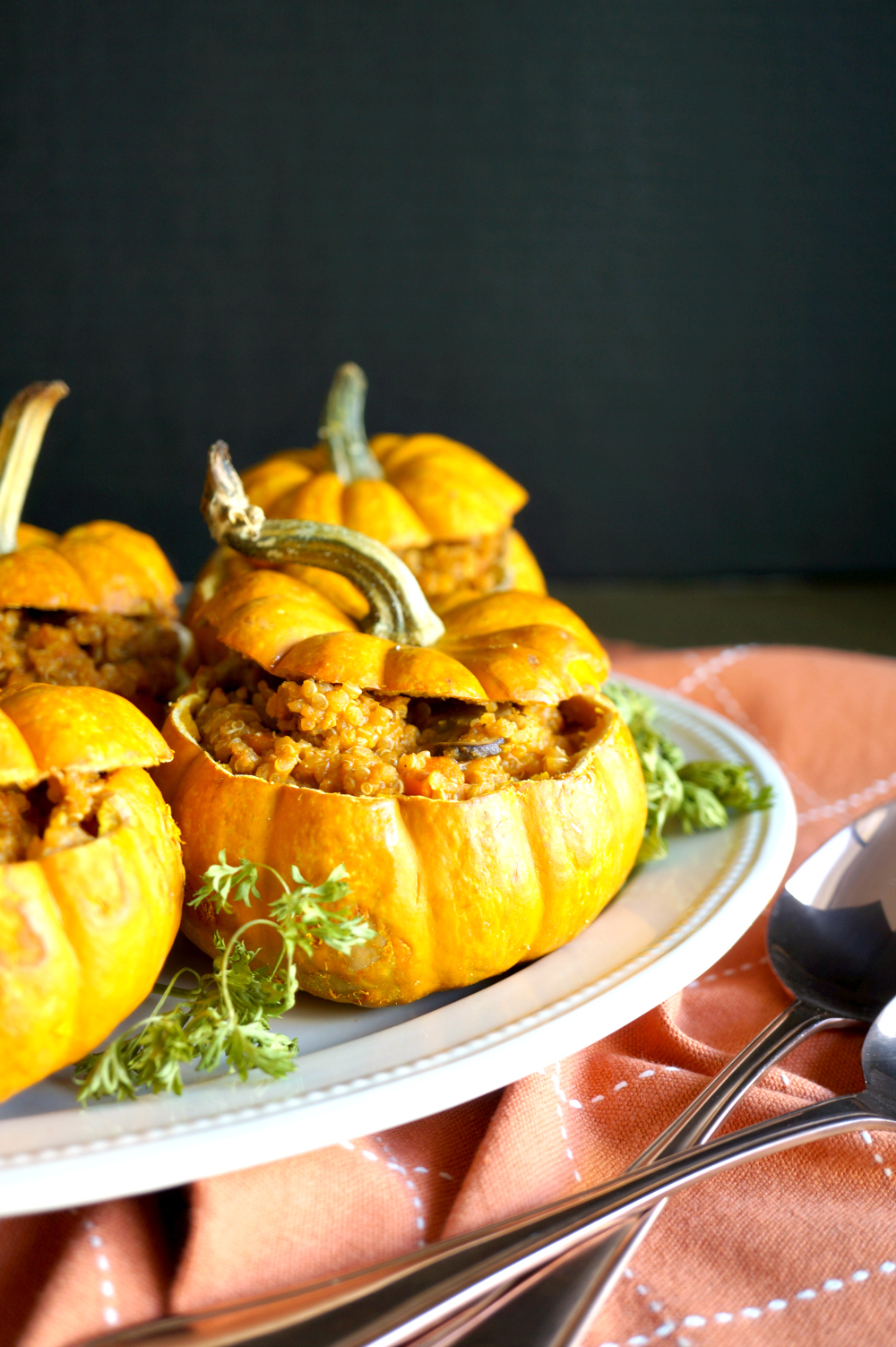 Author:
Valentina | The Baking Fairy
5 mini pumpkins
½ cup quinoa + 1 cup water
1 tbsp olive oil
½ red onion, chopped small
2 carrots, diced
1 cup sliced mushrooms (about 5-6 medium sized mushrooms)
1 cup vegan chorizo crumbles
½ cup pumpkin puree (I just used what I scooped out of my pumpkins after roasting them!)
1 tsp Italian herbs
salt and pepper to taste
First, roast the pumpkins. Preheat the oven to 425F. Wrap each pumpkin loosely in foil, and place in the preheated oven. Roast for 45-55 minutes. The outside of the pumpkins will stay hard even if the are cooked on the inside!
Let the pumpkins cool until they can be handled safely. While they cool off, make the filling.
First, cook the quinoa. Rinse well under running water, and place in a small pot with the 1 cup of water. Add a pinch of salt or a vegetable bouillon cube if desired.
Bring pot to a boil over high heat, then reduce heat to medium-low and cover.
Cook quinoa for about 15 minutes, until it is soft and fluffy, and the water has been absorbed.
Next, prepare the rest of the veggies. In a large nonstick pan, heat the olive oil over medium-high heat.
Add in the onion, carrots, and mushrooms, and cook for a few minutes, stirring often. Add in the chorizo crumbles and continue to cook until veggies are soft and fragrant. Season with the Italian herbs and salt & pepper. Next, add in your cooked quinoa and stir everything together. Remove from heat and set aside for now.
Now it's time to prepare the pumpkins! Using a sharp knife, carefully cut off the top of each pumpkin. Scoop out the seeds and discard. Then scoop out the soft pumpkin flesh, and set aside in a small bowl. Repeat with all.
Going back to the filling, I added the pumpkin puree that I scooped out from my mini pumpkins. You can also add canned pumpkin puree. Stir everything together, adding a bit of water or vegetable broth if it's too thick.
Add more seasoning if needed, then scoop the filling into your hollowed out pumpkins. Serve immediately!
For a yummy finishing touch, you can sprinkle some vegan cheese on top and place the stuffed pumpkins under the broiler for 1-2 minutes to get the cheese melted and golden brown!
Recipe by
The Baking Fairy
at https://www.thebakingfairy.net/2019/09/vegan-savory-stuffed-pumpkins/