vegan nopales tacos with charred corn and black bean salsa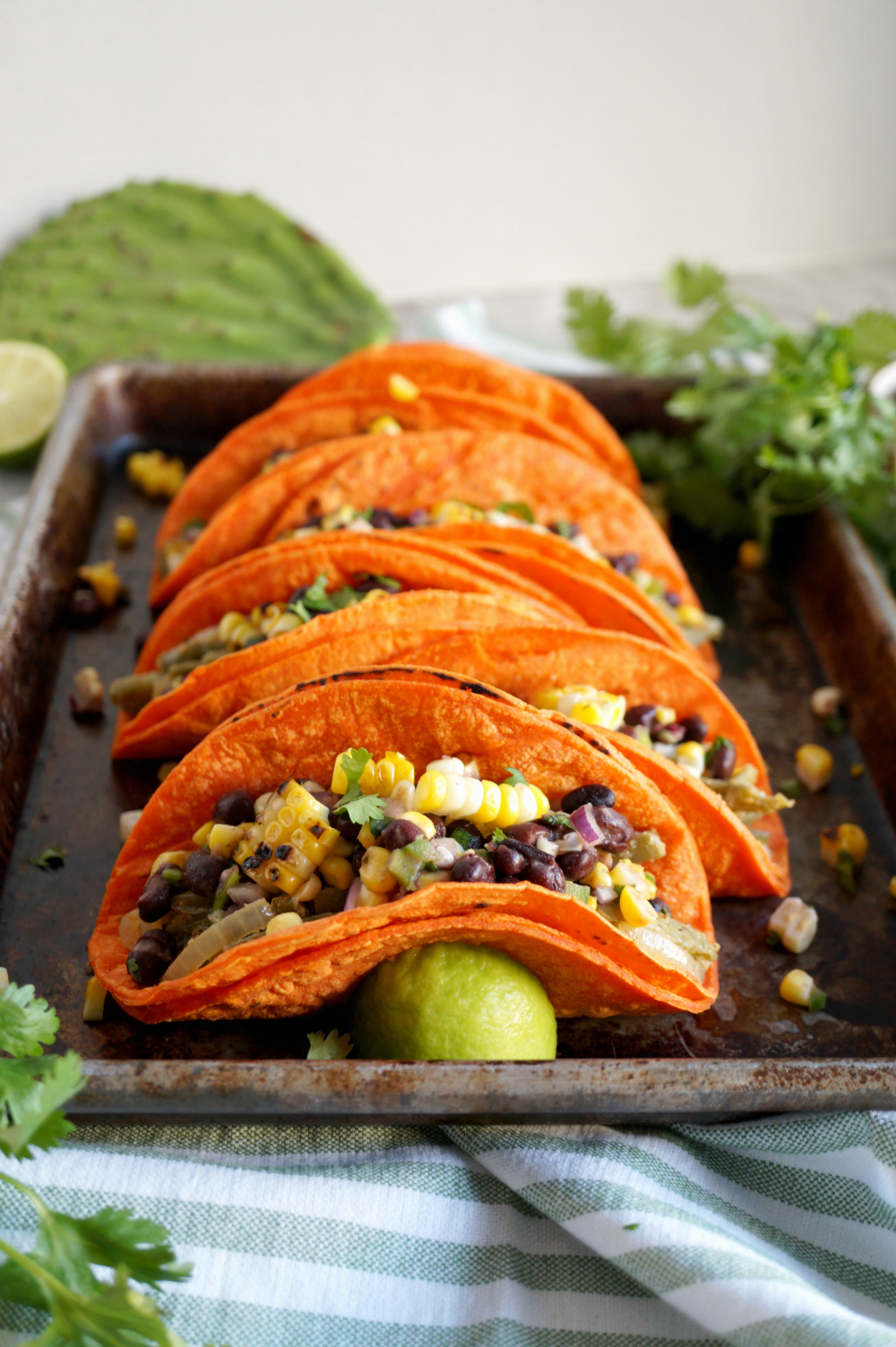 Author:
Valentina | The Baking Fairy
*for the tacos*
4 nopales cactus leaves
½ red onion, sliced thinly
½ - 1 jalapeño, seeded and sliced
½ tbsp olive oil
1 tsp garlic powder
1 tsp onion powder
½ tsp cumin
¼ tsp smoked paprika
1 tsp salt
*for the salsa*
2 ears of fresh corn, husks removed
1 can black beans, rinsed and drained
½ red onion, chopped finely
1 jalapeño, seeded and chopped finely
2-3 tbsp fresh cilantro, if desired
juice of 1 lime
salt, to taste
tortillas, to serve
First, prepare the cactus.
Rinse off the leaves, and using a small knife, scrape the surface away from you to remove all of the nubs and spines. Cut around the edge of the leaves to remove any spines close to the edges. Slice the cactus in thin strips, cutting them in half if they are too long.
It is normal for the cactus to release some slimy liquid. Rinse the strips off as best as you can, and pat dry with a paper towel.
In a large pan over medium heat, heat the olive oil. Add in the cactus strips, onion, and jalapeño. Cook, stirring occasionally, until the veggies are soft and translucent. It is normal for the cactus to release more liquid at this time! Keep cooking until the liquid is all evaporated/reabsorbed.
Add in the spices, and mix to combine. Cook the veggies to your desired doneness. Keep warm while you prepare the salsa.
Heat a cast iron skillet over medium heat, and add in the two ears of corn. Cook, turning occasionally, until corn is hot and some spots are charred.
In a medium bowl combine the black beans, onion, jalapeno, cilantro, lime juice, and salt.
Carefully cut the corn off the cob, and add it to the salsa bowl. Mix everything together, and add more salt if needed.
To assemble, warm up your tortillas. Place some of the nopales and onion mixture in the bottom, and top with the corn and black bean salsa. You can add some avocado or vegan sour cream if you want, too. Serve immediately!
Recipe by
The Baking Fairy
at https://www.thebakingfairy.net/2019/10/vegan-nopales-tacos/