autumn harvest bowls with blood orange tahini drizzle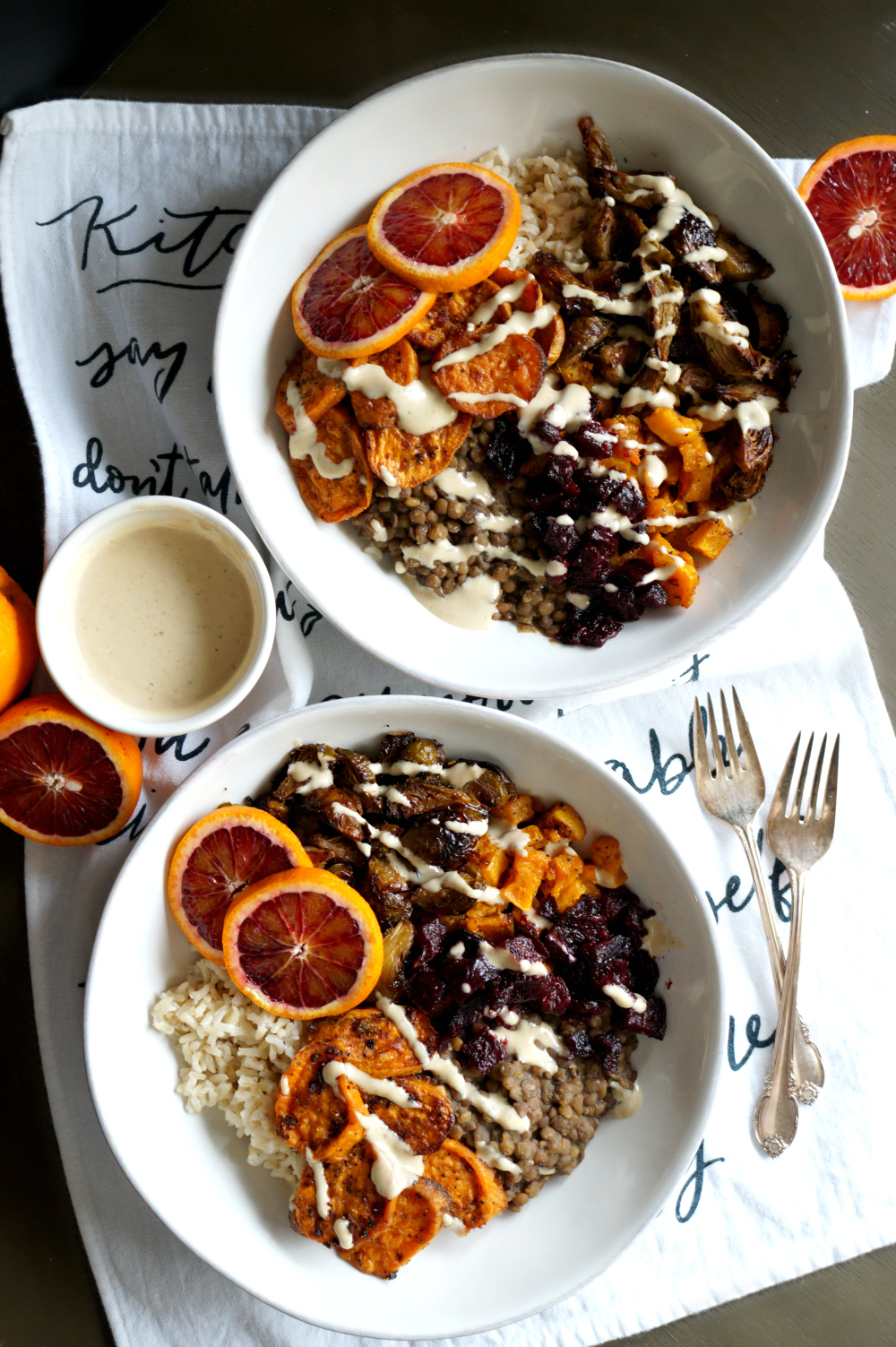 Author:
Valentina | The Baking Fairy
*for the lentils*
1 cup dry green lentils
2-4 cups water (depending how soft and creamy you like your lentils)
pinch of salt
1 bay leaf
*for the vegetables*
1 butternut squash
2 sweet potatoes
1 beet
1 lb brussel sprouts
2-3 tbsp olive oil
2 tbsp Italian herb seasoning
1-2 tsp garlic powder
salt & pepper to taste
*for the sauce*
¼ cup tahini
juice of 1 blood orange
½ - 1 tsp garlic salt
water as needed, to thin
*to serve*
brown rice, quinoa, or other grain
blood orange slices
First, prepare the lentils. Rinse them well, and add to a medium sized pot.
Add 2 cups of cold water, along with the salt and bay leaf, and bring mixture to a boil.
Lower to a simmer and cover, stirring occasionally. You can add more water as you go if you find that the lentils are too hard for your liking. This will take 15-20 minutes.
Next, prep the vegetables. Preheat oven to 450F and line two baking sheets with foil, parchment, or silicone liners.
Wash all veggies, and peel the butternut squash, sweet potatoes, and beet. Cut the butternut and beet into small cubes. Cut the sweet potato into slices. Cut the bottoms off of the brussel sprouts, and divide into 4.
Arrange the vegetables on your prepared baking sheets, drizzle with the olive oil, and sprinkle on the seasoning.
Bake for 45-50 minutes, until vegetables are golden brown and caramelized.
Right before serving, prepare the tahini sauce. In a small bowl, mix together the tahini and blood orange juice. It is normal for the tahini to "seize" a little and become thick. Add in the garlic salt to taste, and add water, a bit at a time, until sauce is thin and fluid, and easy to drizzle.
To serve, prepare your brown rice/quinoa/etc according to package directions. Spoon some of your grains into each of 4 bowls, and add in the lentils. Divide the vegetables evenly among the bowls, and drizzle on the sauce. Garnish with 1-2 slices of blood orange if desired. Enjoy!
Recipe by
The Baking Fairy
at https://www.thebakingfairy.net/2019/10/autumn-harvest-bowls/