vegan sourdough stuffing with mushrooms, sausage, and swiss chard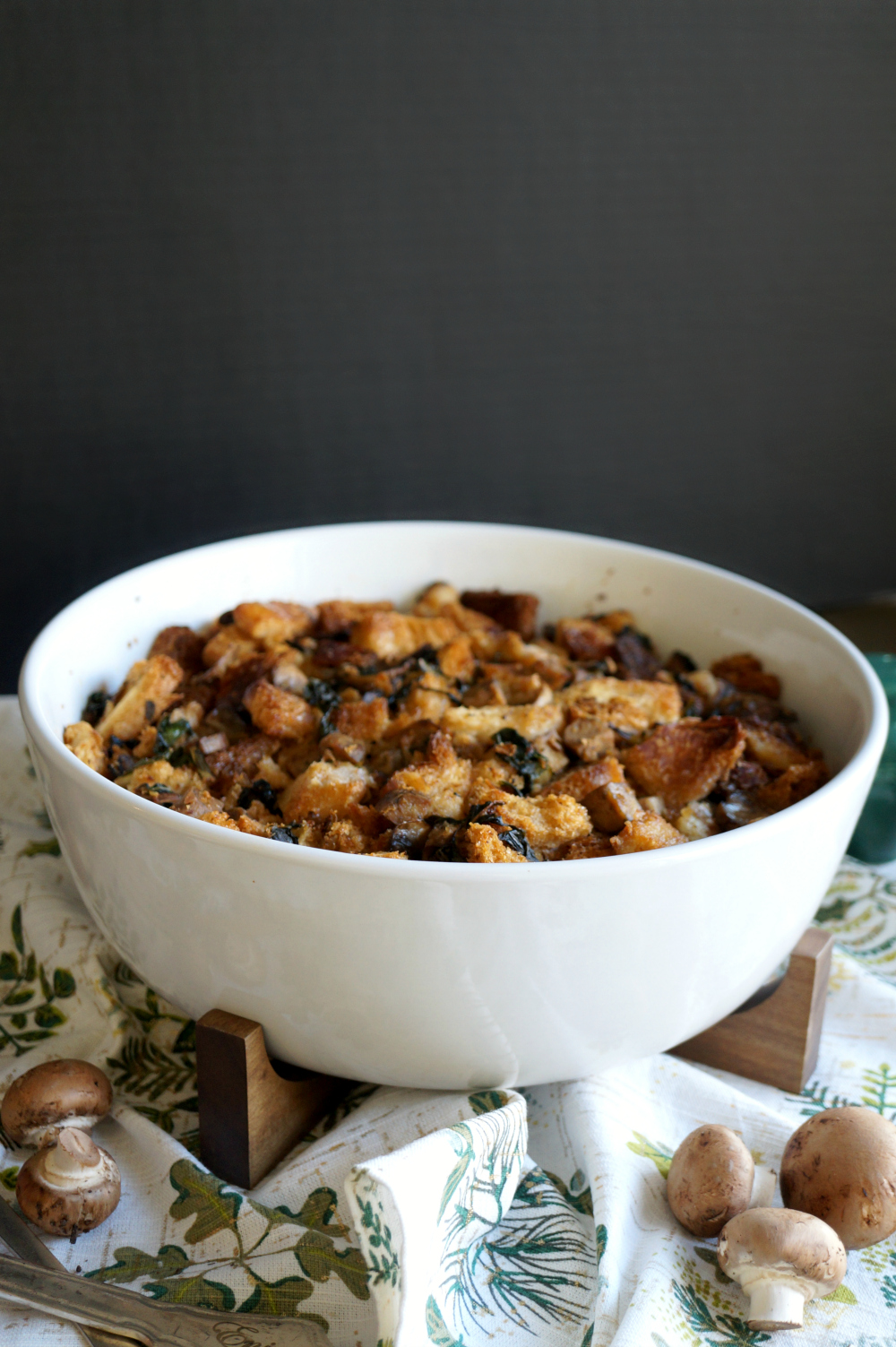 Author:
Valentina | The Baking Fairy
1 lb sourdough bread, cut into small cubes
8oz mushrooms, sliced
1 stalk celery, diced small
½ onion, diced small
1 bunch Swiss chard leaves, with stems removed
2 tbsp olive oil
2 tbsp vegan butter
¼ cup white wine
one 12oz package of vegan Italian sausages
2 tsp garlic salt
1 tsp garlic powder
1 tsp onion powder
1 tsp Italian herbs
2 cups vegetable broth
First, prepare the bread. Preheat oven to 400F. Cut the bread into small pieces and lay in a single layer on two baking sheets.
Bake for 30-40 minutes, until bread is dry and crispy. We want it to be dry so it will soak up all the stuffing flavors!
While the bread is in the oven, prepare the rest of the ingredients.
Prep all your veggies. Chop the celery and onion into a small dice. Slice the mushrooms. Cut the stems out of the Swiss chard leaves, and roughly chop them up. Also cut the Italian sausages into small bite-sized cubes.
In a large pan, heat up the olive oil and vegan butter over medium heat.
Add in the onion, celery, and mushrooms, and cook, stirring often, until veggies start to look translucent and soft.
At this point, toss in the sausage pieces and mix to combine. Cook for a few minutes, until sausage is starting to get golden brown and caramelized around the edges.
Pour in the white wine, and stir the ingredients around as it evaporates. Add in the seasonings, and finally add the Swiss chard. Mix around until it's wilted and soft, and everything is cooked through.
When the bread cubes are ready, remove from the oven and toss into a very large bowl. Add in the veggie and sausage mixture, and slowly pour the vegetable broth into the mixture. Gently toss to combine.
Pour stuffing into a large greased baking dish, and cover.
Bake for 40 minutes at 400F, then uncover and bake for 15-20 more minutes to caramelize the top. I like to finish off with a quick broil to make the top look extra appetizing!
Let cool off slightly and enjoy!
Recipe by
The Baking Fairy
at https://www.thebakingfairy.net/2019/11/vegan-sourdough-stuffing/