vegan marshmallow sweet potato tart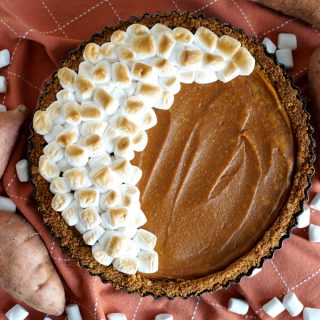 Author:
Valentina | The Baking Fairy
Recipe type:
Pies & Tarts
*for the crust*
12 graham cookies
7 tbsp unsalted vegan butter, melted
⅓ cup packed brown sugar
1 tsp cinnamon
*for the filling*
2 medium sweet potatoes (to yield ~2 cups puree)
1 cup packed brown sugar
1¼ cup nondairy milk
2 tbsp cornstarch
1 tbsp vanilla extract
½ tbsp cinnamon
1 cup vegan marshmallows, for topping
First, cook the sweet potatoes. Rinse them well, and prick them all over with a fork. Microwave for 5-6 minutes, until soft and easy to mash. Set aside to cool slightly.
Meanwhile, make the crust. In a food processor, pulse the graham crackers until they are fine crumbs. Add in the brown sugar and cinnamon, and pulse a few times to combine. Add in the melted vegan butter, and mix until a soft moist crumb forms.
Pour the mixture into your tart pan, and press firmly into the bottom and the sides to compact.
Place the crust in the fridge for at least 15 minutes to set.
Meanwhile, preheat the oven to 350F.
When the crust is chilled, place on baking sheet and bake in preheated oven for 10 minutes.
To make the filling, scrape the sweet potatoes out of the skins and place in the food processor. Add in the brown sugar, milk, vanilla, cinnamon, and cornstarch. Pulse until the filling is smooth and creamy.
Pour the filling in the prepared crust, and bake until filling is firm and custardy, about 30-35 minutes.
For the marshmallow topping, arrange mini marshmallows carefully over the filling, and place under broiler for 1-2 minutes until golden brown and toasted.
Let sweet potato tart cool at room temp for 1-2 hours before cutting and serving for optimal texture. Enjoy!
Recipe by
The Baking Fairy
at https://www.thebakingfairy.net/2019/11/vegan-marshmallow-sweet-potato-tart/