vegan hot cocoa rice krispie treats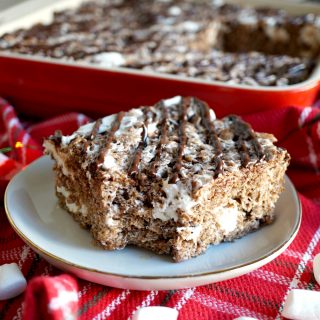 Author:
Valentina | The Baking Fairy
Recipe type:
Brownies & Bars
¼ cup vegan butter
3 cups vegan marshmallows + 1 cup for later
7 cups cocoa rice cereal
¼ cup vegan chocolate chips
First, prepare an 8x8 baking sheet and spray with nonstick spray or coat with vegan butter. Set aside.
Place the vegan butter in a large pot, and melt over medium-low heat. Once it is melted, add in 3 cups of marshmallows. Melt down, stirring often. This will take 5-7 minutes.
When the marshmallows are all melted, add in the cocoa rice cereal. Fold everything together until well combined. Finally, stir in the reserved cup of mini marshmallows and mix to combine.
Press rice krispie mixture into the prepared pan and allow to cool slightly so it can set.
While the rice krispies set, melt down the ¼ cup of vegan chocolate. Place in a zip-top baggie, and snip the corner. Drizzle the chocolate on top of the prepared bars.
When the rice krispies have cooled and hardened, cut into bars and enjoy!
Recipe by
The Baking Fairy
at https://www.thebakingfairy.net/2019/12/vegan-hot-cocoa-rice-krispie-treats/