gnocchi with pesto, roasted tomatoes, and vegan sausage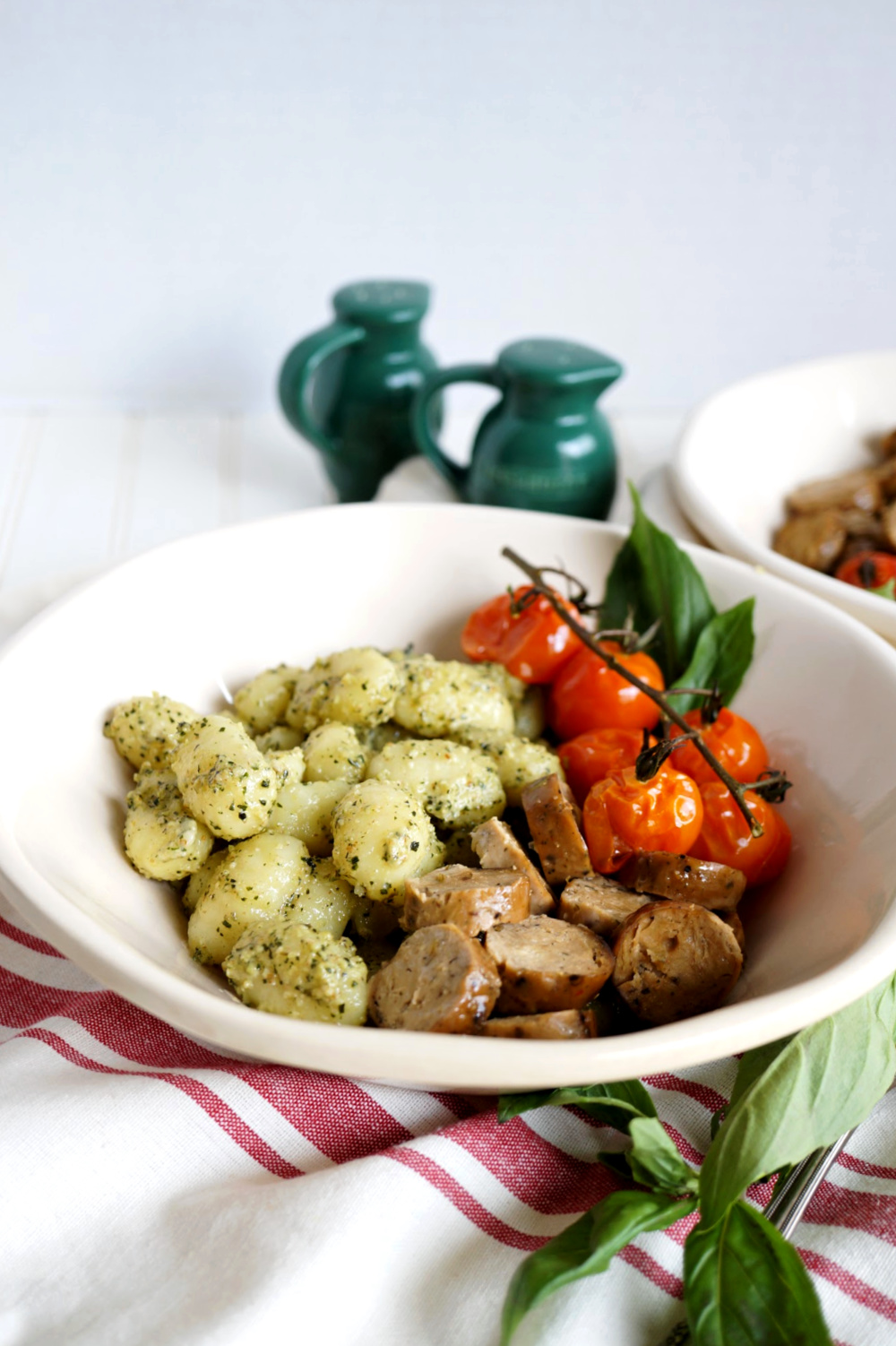 Author:
Valentina | The Baking Fairy
Recipe type:
Pasta & Noodles
*for the pesto*
1 cup fresh basil leaves
¼ cup pecans (or your favorite nut)
4-5 cloves of garlic, peeled
2 tbsp nutritional yeast
1-2 tsp salt or garlic salt (more or less to taste)
⅓ cup olive oil (more or less as needed)
*for the roasted tomatoes and sausages*
1 pint cherry tomatoes
4 vegan Italian sausages
1 tbsp olive oil
4 cloves of garlic, smashed
1 tsp garlic salt
*to serve*
2 packages gnocchi
First, preheat oven to 425F. Drizzle some olive oil in the bottom of an 8x8 baking dish. Arrange the sausages and cherry tomatoes in the dish, drizzle with a bit more oil, add in the smashed garlic cloves, and sprinkle with garlic salt. Roast in preheated oven for 30 minutes.
While the sausages and tomatoes cook, prepare the pesto.
In a food processor, combine the basil leaves, pecans, garlic cloves, nutritional yeast, salt, and some of the olive oil. Pulse, adding more olive oil as needed, until you have a smooth sauce and everything is finely processed. Set aside for now.
When the sausages and tomatoes are ready, remove from the oven and set aside. Now you can cook the gnocchi.
Bring a large pot of water to a boil, and salt the water.
Add in the two packages of gnocchi, and cook according to package directions. Usually, when the gnocchi float to the surface, they are ready.
Remove the gnocchi from the water and toss with some of your pesto for desired sauciness (you will have some leftover). Divide between 4 bowls and serve with the roasted tomatoes and Italian sausage. Enjoy!
Recipe by
The Baking Fairy
at https://www.thebakingfairy.net/2020/01/gnocchi-with-pesto/