easy vegan taco bowls with tempeh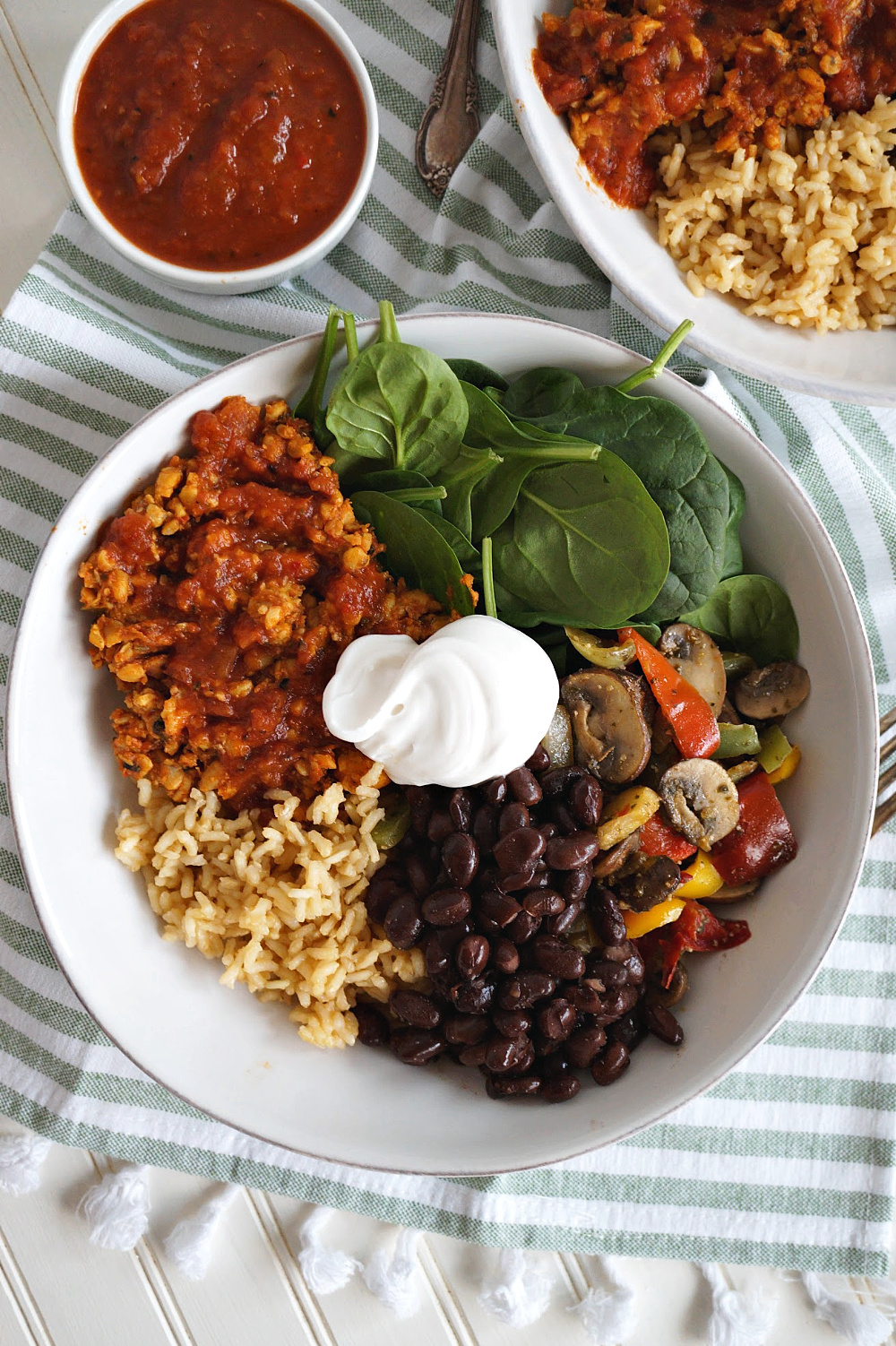 Author:
Valentina | The Baking Fairy
*for the fajita vegetables*
1 bell pepper, thinly sliced
½ onion, thinly sliced
1 cup sliced mushrooms
1 tbsp olive oil
½ tsp onion powder
½ tsp garlic powder
salt to taste
*for the tempeh*
1 8oz block of tempeh, crumbled
1 tbsp olive oil
1 cup salsa
1 tsp garlic powder
1 tsp onion powder
1 tsp cumin
¼ tsp smoked paprika
salt to taste
*for black beans*
1 can black beans
1 tsp onion powder
1 tsp garlic powder
½ tsp smoked paprika
1 tsp oregano
salt to taste
*for serving*
1 cup quick-cooking brown rice + 2 cups vegetable broth
fresh spinach or other salad green
vegan sour cream, avocado, cilantro, lime juice
First, prepare the brown rice. Combine the rice and vegetable broth, and cook according to package directions.
Next, prepare your fajita vegetables. In a large pan over medium-high heat, heat your olive oil.
Add in the sliced peppers, onions, and mushrooms. Cook, stirring occasionally, until vegetables are golden brown on the edges and everything has softened. Season with onion and garlic powder, and add salt to taste. Transfer vegetables to a plate, and wipe down the pan.
Now, make the tempeh. Return the pan to medium-high heat, and add more oil. Add the crumbled tempeh, and sauté for 3-5 minutes, until it is golden brown and smells toasted.
Mix in the seasonings, then add in the salsa. Turn heat to low and stir often to prevent the salsa from burning.
Finally, prepare the beans. Pour the contents of the can of beans (juice and all) into a small saucepan. Add in the seasonings, and stir to combine. Heat over medium until the beans are warmed through and the liquid has slightly thickened.
Now it is time to serve! Divide your cooked brown rice between 4 bowls. Add in some spinach or salad greens, and top with the tempeh mixture, fajita vegetables, and drained black beans.
Top with vegan sour cream, avocado, and/or fresh cilantro and lime juice. Enjoy!
Recipe by
The Baking Fairy
at https://www.thebakingfairy.net/2020/01/easy-vegan-taco-bowls-with-tempeh/