vegan "beef" and mushroom pot pies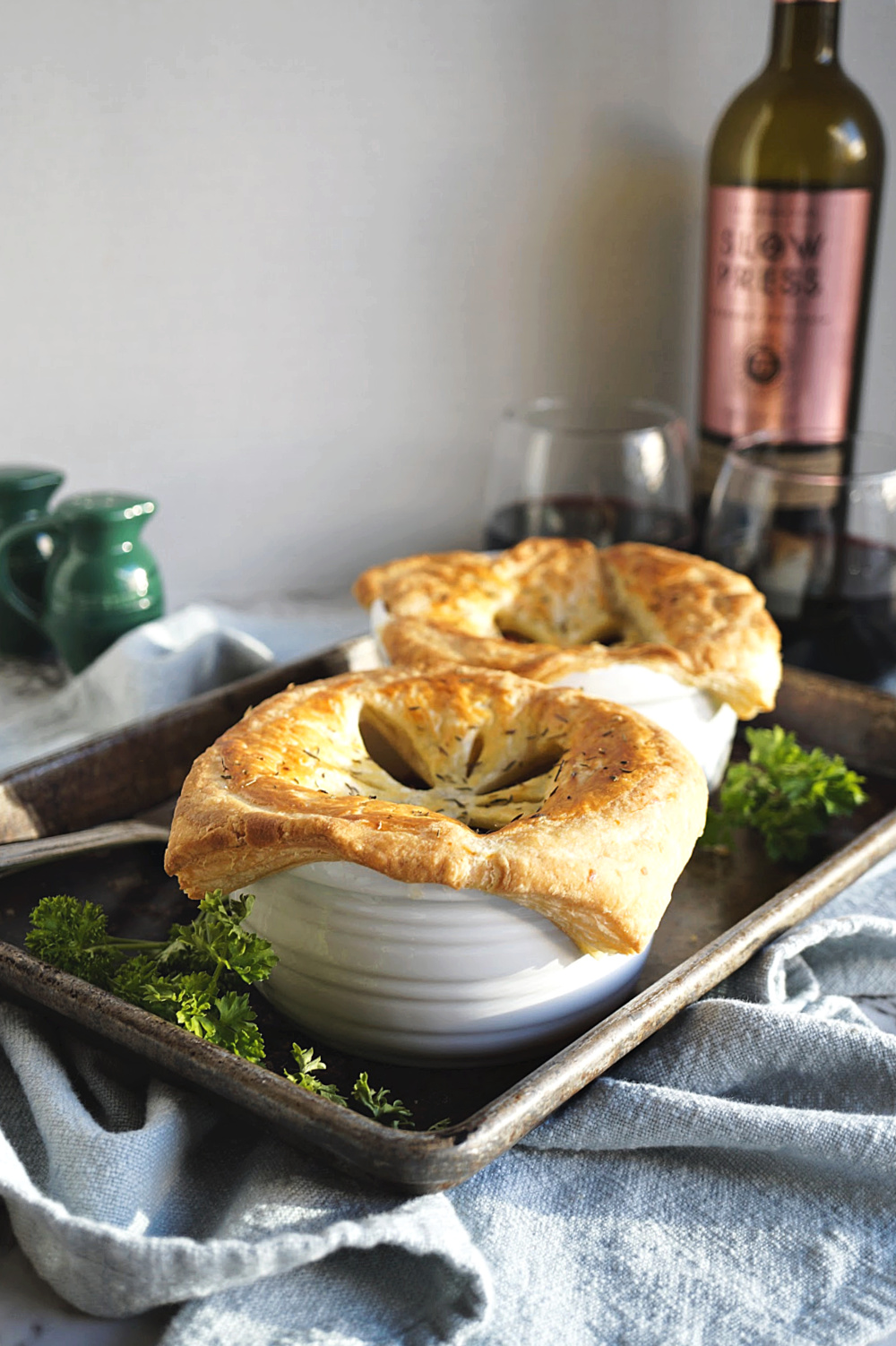 Author:
Valentina | The Baking Fairy
2 tbsp olive oil
8 oz meatless "ground beef"
½ white onion, diced small
4-5 cloves of garlic, minced
2 carrots, diced small (about 1 cup)
3 potatoes, peeled and diced small (about 1 cup)
1 cup sliced mushrooms
1 cup frozen peas
1 tbsp tomato paste
½ tsp garlic salt
2 tsp garlic powder
2 tsp onion powder
1 tsp paprika
1 tsp dried thyme
½ cup red wine (can substitute with more vegetable broth)
½ cup vegetable broth
1 tbsp cornstarch
1 sheet frozen puff pastry, thawed
1-2 tbsp Just Egg or nondairy milk and herbs, for topping
First, preheat oven to 425F.
Next, prepare the filling. Heat the olive oil in a large nonstick pot over medium high heat.
Add in the meatless "beef" with the onion and garlic.
Cook, stirring often, until "meat" has caramelized and the onion has softened. Mix in the tomato paste.
Stir in the diced carrots, potatoes, and sliced mushrooms, and stir to combine. Add in the seasonings - garlic salt, garlic powder, onion powder, paprika, and thyme.
Cook the mixture for 5-7 minutes, until the vegetables start to soften and release their liquids.
Add in the red wine (or extra vegetable broth), and stir to combine. Let the alcohol and most of the liquid evaporate.
Finally, stir the cornstarch and vegetable broth together in a small bowl. Whisk well until smooth and lump-free, and add into the meat and veggie mixture. Stir to combine. As the vegetable broth heats up, it should almost immediately make a thick gravy. Remove from heat.
Divide the filling into 4 oven-safe bowls.
Use a rolling pin to gently stretch out the thawed out puff pastry, and cut into 4 equal pieces. Make some small cuts in the center to allow the steam to escape.
Lightly wet the edge of each bowl, and place the square of puff pastry on top, pressing firmly around the edge to make it stick.
Brush the surface of each puff pastry with some Just Egg or nondairy milk, and sprinkle on additional dried thyme.
Place the bowls on a baking sheet, and into the preheated oven. Bake for 20 minutes, until puff pastry is puffed, flaky, and golden brown. Serve immediately!
Recipe by
The Baking Fairy
at https://www.thebakingfairy.net/2020/01/vegan-beef-and-mushroom-pot-pies/