vegan creamy curry ramen noodles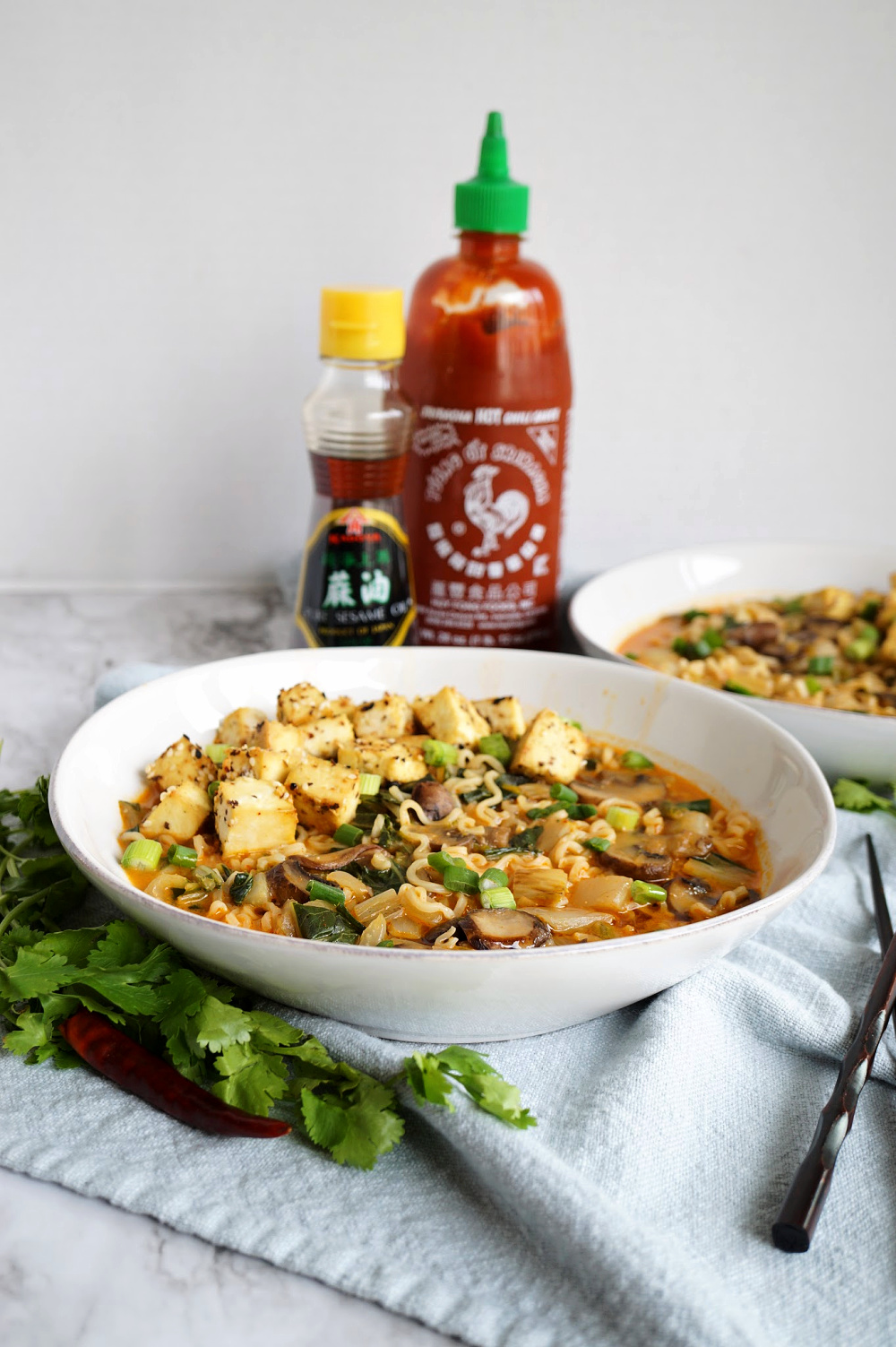 Author:
Valentina | The Baking Fairy
Recipe type:
Pasta & Noodles
*for the tofu*
one 14oz pack extra firm tofu
garlic salt
Japanese seaweed seasoning, or another sesame seasoning like Everything Bagel
*for the ramen noodles*
3-4 packs of ramen noodles
1 tbsp olive oil
8 oz mushrooms
1 bunch green onions
4 cups chopped bok choy (about ½ a bunch or 2 baby bok choy)
2 tbsp curry paste
one 13.5oz can lite coconut milk
4 cups vegetable broth
To serve: green onion tops, sesame seeds, sesame oil, Sriracha sauce
First, prepare the tofu. Preheat oven to 425F, and line a baking sheet with silicone or a piece of parchment paper.
Drain the tofu and remove excess moisture with paper towels. Cube up the tofu to desired size, and toss with some garlic salt and seasoning.
Arrange in a single layer on prepared baking sheet, and bake for 25-30 minutes, until golden brown and crispy.
While the tofu bakes, prepare the broth. Slice the green onions and mushrooms, and chop up the boy choy in small pieces. You can reserve the tops of the green onions for serving.
Add your oil to a large nonstick pot and heat to medium-high. Add in your vegetables and cook, stirring often, until softened and slightly caramelized.
Add in the curry paste and mix to combine. Next, add the coconut milk and vegetable broth. Add salt to taste.
Lower heat to medium-low, and simmer broth until tofu is ready.
When tofu is cooked, you can cook the noodles. Either add them to the broth, or use a separate pot to boil some water and cook them according to package directions. If you add the noodles to the broth, you may need to add a bit of water to make sure you also have enough broth to serve.
As soon as noodles are ready, plate it up! Divide the noodles and broth between 4 bowls, and top with the baked tofu. Sprinkle on the reserved green onion tops, sesame seeds, and a drizzle of sesame oil. Enjoy!
Recipe by
The Baking Fairy
at https://www.thebakingfairy.net/2020/04/vegan-creamy-curry-ramen-noodles/