vegan salsa verde enchiladas with pecan meat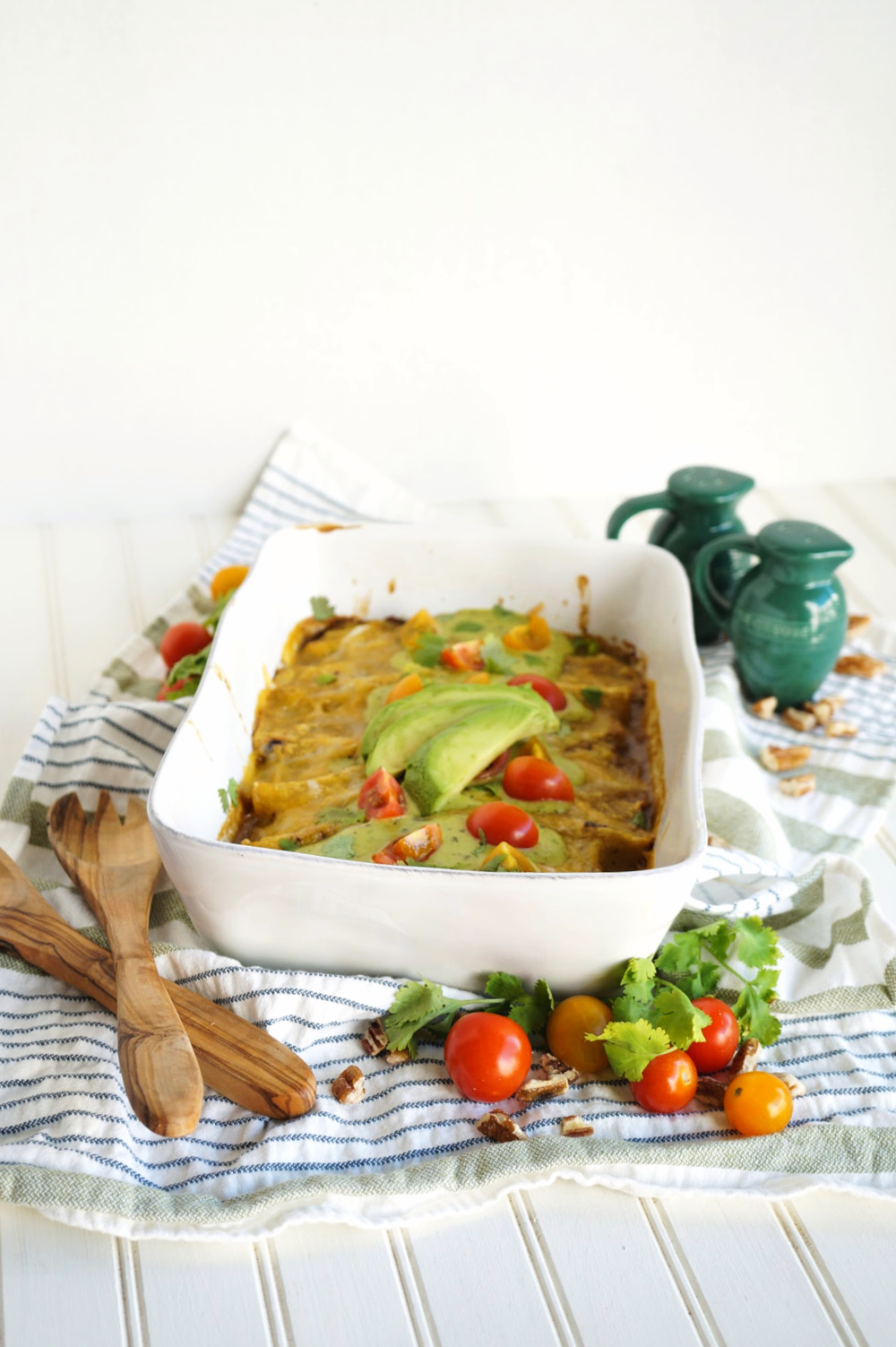 Author:
Valentina | The Baking Fairy
*for the pecan meat*
1½ cups pecan halves and pieces
¼ cup white onion, chopped
5-6 cloves of garlic
1 tsp salt
1 tsp onion powder
1 tsp garlic powder
1 tsp cumin
¼ tsp smoked paprika
½ tsp oregano
½ tsp cayenne pepper
*for the enchiladas*
12-14 small corn tortillas
two 10oz cans green enchilada sauce
½ - 1 tbsp olive oil
1 cup frozen corn
1 cup frozen sliced peppers and onions
one 15oz can black beans, rinsed and drained
1 cup vegan shredded cheese (optional)
First, make your pecan meat. Combine the pecan pieces, onion, garlic, and spices in a food processor. Pulse until everything is finely ground.
Next, start the enchilada filling. Heat the olive oil in a large pan over medium-high heat, and add in the frozen corn and onions/peppers.
Cook for about 5 minutes, until veggies are thawed out and starting to get translucent. Add in your pecan meat mixture, and toss to combine. Then stir in your black beans.
Mix everything together and cook for 7-10 minutes, until everything is warmed through and vegetables are cooked. Add in ½ a cup of enchilada sauce to the veggie mixture (about ½ a can) and stir to combine. Add more salt and spices to taste.
Next, preheat oven to 425F. Prepare a large 9x13 baking dish (or two smaller 8x8 dishes) by greasing them and spooning a small amount of enchilada sauce in the bottom.
Toast or warm your corn tortillas to prevent cracking. Dip each tortilla in enchilada sauce, then fill with the vegetable mixture, and roll. Place in your prepared baking dish, and repeat with all.
Pour any remaining enchilada sauce over the top, and sprinkle on your vegan cheese (if using).
Cover baking dish with foil, and bake in preheated oven for 30 minutes. Then, uncover the baking dish and broil for 2-3 minutes (watching carefully) until cheese is bubbling and golden brown.
Serve warm with sliced avocado and pico de gallo!
Recipe by
The Baking Fairy
at https://www.thebakingfairy.net/2020/04/vegan-salsa-verde-enchiladas/