vegan lemon ginger loaf cake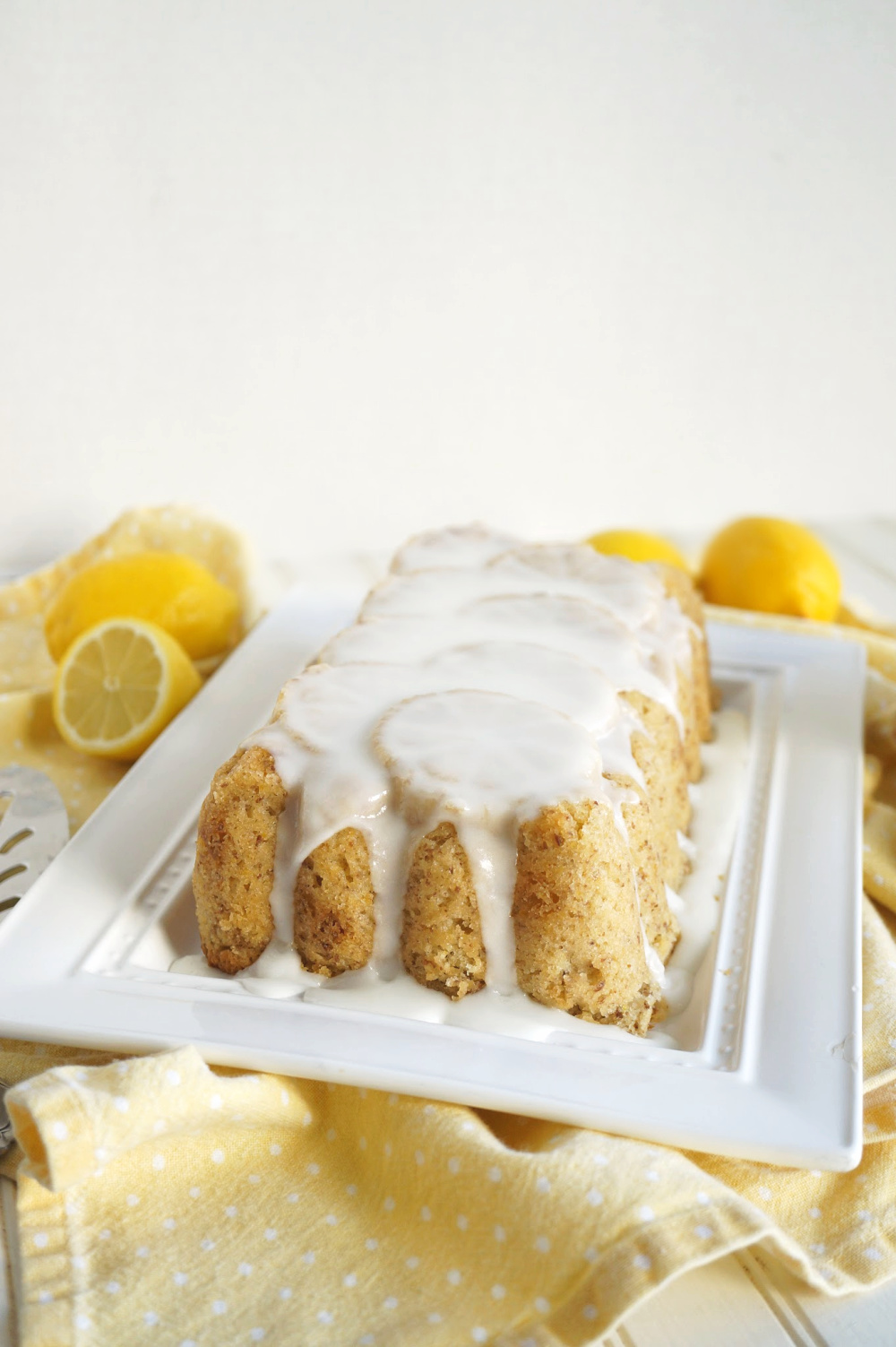 Author:
Valentina | The Baking Fairy
*for the cake*
2 tbsp ground flaxseed + 6 tbsp water
zest of 2 lemons (about 1 tbsp)
1 tbsp freshly grated ginger
2 tsp dry ground ginger
1¾ cup all purpose flour
1 cup white granulated sugar
1 tsp baking soda
1½ tsp baking powder
¼ tsp salt
¼ cup vegan butter, softened
⅓ cup lemon juice (I needed about 2½ lemons)
⅓ cup nondairy milk
¼ cup oil
⅓ cup vegan yogurt (I used Silk Soy vanilla yogurt)
½ tsp lemon extract
1 tsp vanilla extract
¼ cup crystallized ginger pieces
*for the glaze*
juice of 1 lemon (about 2 tbsp)
1 cup powdered sugar (more or less as needed)
Preheat oven to 350F. Spray a 9x5 loaf pan with baking spray with flour, or grease and flour the pan. Set aside.
In a small bowl, mix up the ground flaxseed and water and set aside to thicken.
In the bowl of a stand mixer (or any other large bowl), zest the two lemons and grate your fresh ginger. Add in the flour, sugar, baking powder, baking soda, salt, ground ginger, and vegan butter. Turn the mixer on low and combine until butter has been incorporated and mixture looks sandy.
Meanwhile, in a separate bowl, mix together your flaxseed mixture with the lemon juice, nondairy milk, oil, yogurt, lemon extract, and vanilla extract. Whisk together.
While the mixer runs slowly, drizzle in the wet ingredients and mix until cake batter comes together. Fold in the crystallized ginger pieces.
Transfer cake batter to your prepared loaf pan, and bake in preheated oven for 45-55 minutes, until a toothpick inserted in the center comes out clean. If the top seems to be browning too quickly, cover the cake with a piece of foil as it finishes cooking.
When the cake is cooked through, let it cool to room temperature in the pan, then transfer to a serving plate or rack to finish cooling off.
While the cake cools, prepare the glaze. Add your lemon juice to a small bowl and add the powdered sugar, a spoonful at a time, until a thick glaze forms. Make it a bit thicker than you think you need - it will melt a bit when it hits the warm cake! Think Elmer's glue consistency. When ready to serve, drizzle the glaze on top of your cake. Slice up and enjoy!
Recipe by
The Baking Fairy
at https://www.thebakingfairy.net/2020/06/vegan-lemon-ginger-loaf-cake/