vegan summer berry galette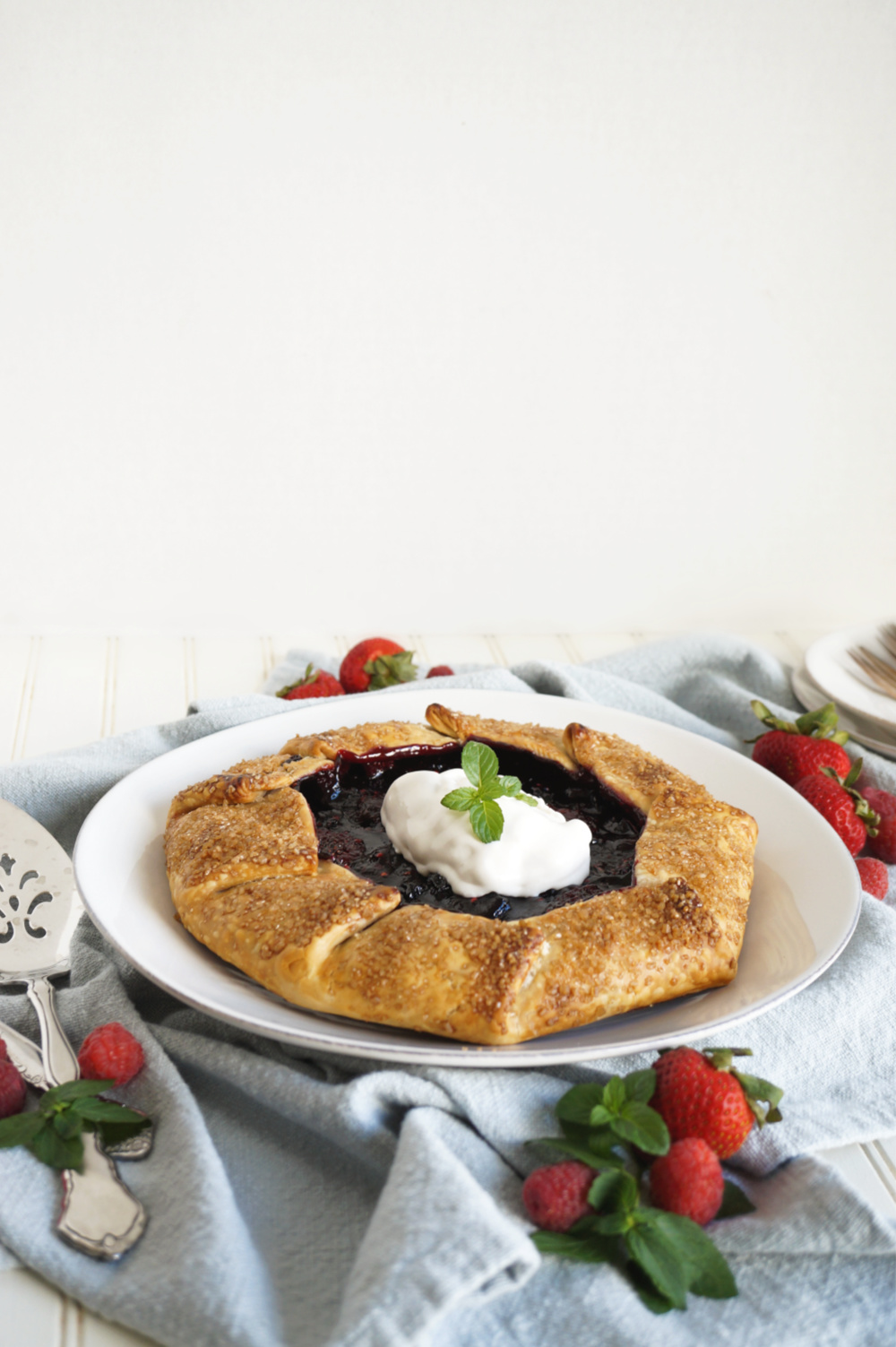 Author:
Valentina | The Baking Fairy
Recipe type:
Pies & Tarts
*for the filling*
2 cups frozen mixed berries, thawed and drained of excess liquid
juice of 1 lemon (about 2 tbsp)
½ white granulated sugar
1 tbsp cornstarch
*to assemble*
1 storebought refrigerated pie crust
1-2 tbsp nondairy milk
1-2 tbsp turbinado sugar
First, prepare the berry filling. Be sure your frozen berries are thawed out, and drain all excess juice.
Add the thawed berries to a medium saucepan, and mix in the lemon juice, sugar, and cornstarch. Heat over medium-high, stirring often, until mixture comes to a boil. Reduce heat to a simmer, and continue to cook, stirring often, until mixture is thick and jammy. Set aside to cool before using.
To assemble the galette, line a baking sheet with parchment or a silicone liner.
Unroll your refrigerated pie crust onto the lined sheet, and spoon the cooled berry filling in the center, leaving about 2 inches all around for the crust. Gently fold over the pie dough over the filling to create your crust, overlapping slightly as you go.
Brush the crust with some nondairy milk, and sprinkle on turbinado sugar if desired.
Place galette in the fridge or freezer for 20-30 minutes to chill.
Meanwhile, preheat oven to 400F.
When the galette is chilled and solid, transfer directly to the oven. Bake for 35-40 minutes, until crust is golden brown and crisp, and filling is bubbly.
Let cool slightly, then enjoy with ice cream or vegan whip!
Recipe by
The Baking Fairy
at https://www.thebakingfairy.net/2020/06/vegan-summer-berry-galette/