vegan pesto pasta with roasted tomatoes and almond ricotta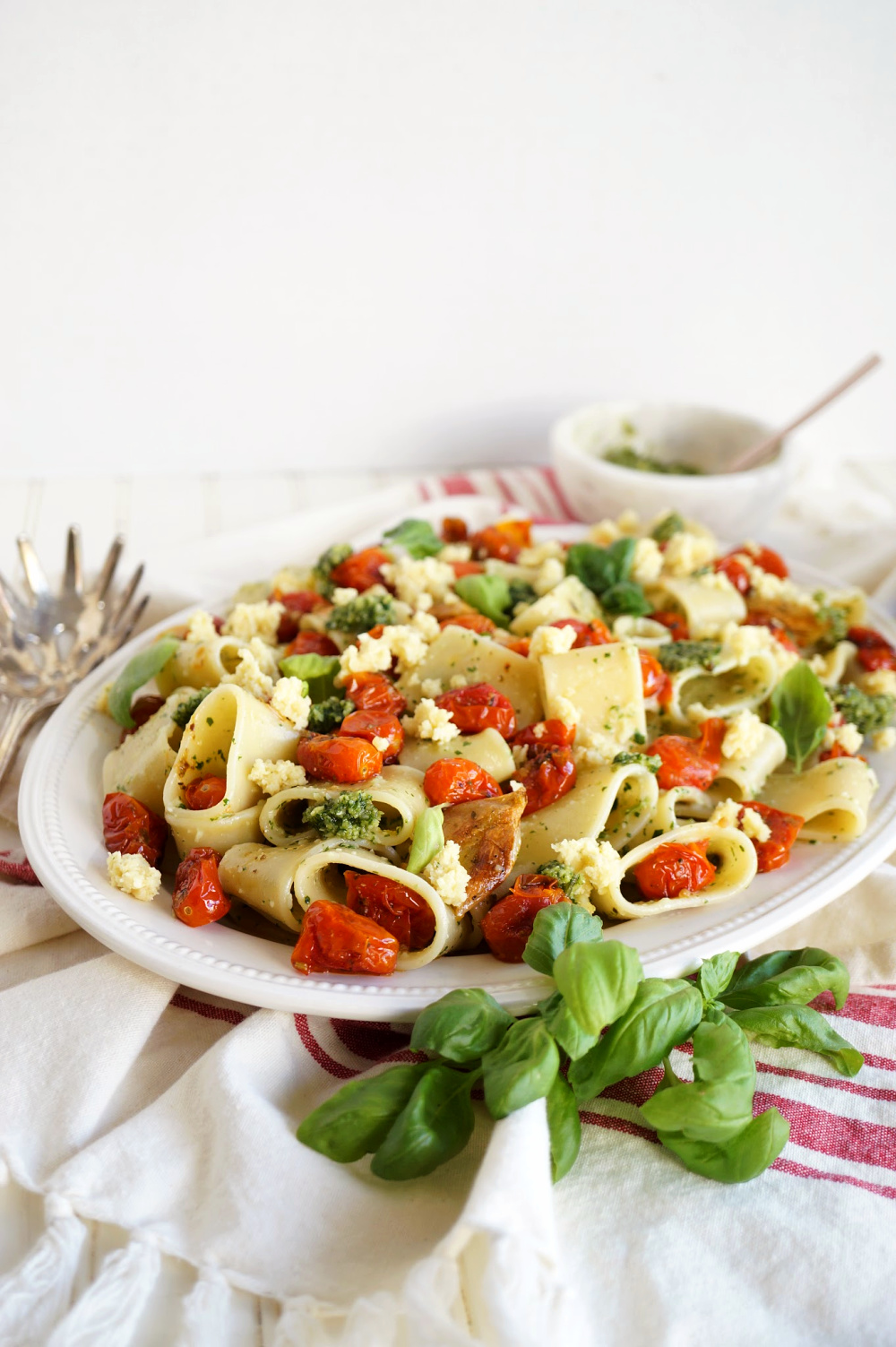 Author:
Valentina | The Baking Fairy
*for the roasted tomatoes*
1 pint cherry tomatoes
3-4 garlic cloves
2 tbsp olive oil
1 tbsp Italian herb mix
pinch of salt
*for the pesto*
¼ cup pine nuts
5-6 garlic cloves, more or less to preference
2 tbsp vegan parmesan (can substitute nutritional yeast)
2 cups fresh basil leaves
3-4 tbsp olive oil, more or less as needed
pinch of salt
*for the almond ricotta*
½ cup blanched sliced almonds
1 tsp nutritional yeast
2½ tbsp water
½ tbsp lemon juice
¼ tsp garlic powder
salt, to taste
*to serve*
1 lb pasta of choice
First, prepare the roasted tomatoes. Preheat oven to 400F.
Combine the cherry tomatoes with the olive oil, peeled garlic cloves, Italian herbs, and salt in a small baking dish. Roast in preheated oven for 25-30 minutes, until caramelized and blistered.
While the tomatoes are roasting, prepare the pesto. In a food processor, combine the pine nuts, peeled garlic cloves, vegan parmesan, basil leaves, and pinch of salt. Add in about half the olive oil, and pulse mixture until it is very finely chopped and starting to look creamy. Add more oil as needed if it is too thick. Transfer your pesto to a bowl, and set aside.
Finally, make the almond ricotta. In a food processor, combine the blanched almonds with the nutritional yeast, water, lemon juice, garlic powder, and salt. Pulse until smooth and creamy. You can add more or less water depending if you'd like your ricotta more creamy or crumbly. Set aside.
When the tomatoes are nearly ready, you can start to prepare the pasta. Bring a large pot of water to a boil, and salt generously. Cook noodles according to package directions.
When pasta is ready, drain (save some pasta water just in case) and toss with the pesto. Add some of the reserved pasta water if mixture is too thick. Serve the pesto pasta with the roasted tomatoes and almond ricotta. Enjoy!
Recipe by
The Baking Fairy
at https://www.thebakingfairy.net/2020/07/vegan-pesto-pasta/