watermelon mint frozen margaritas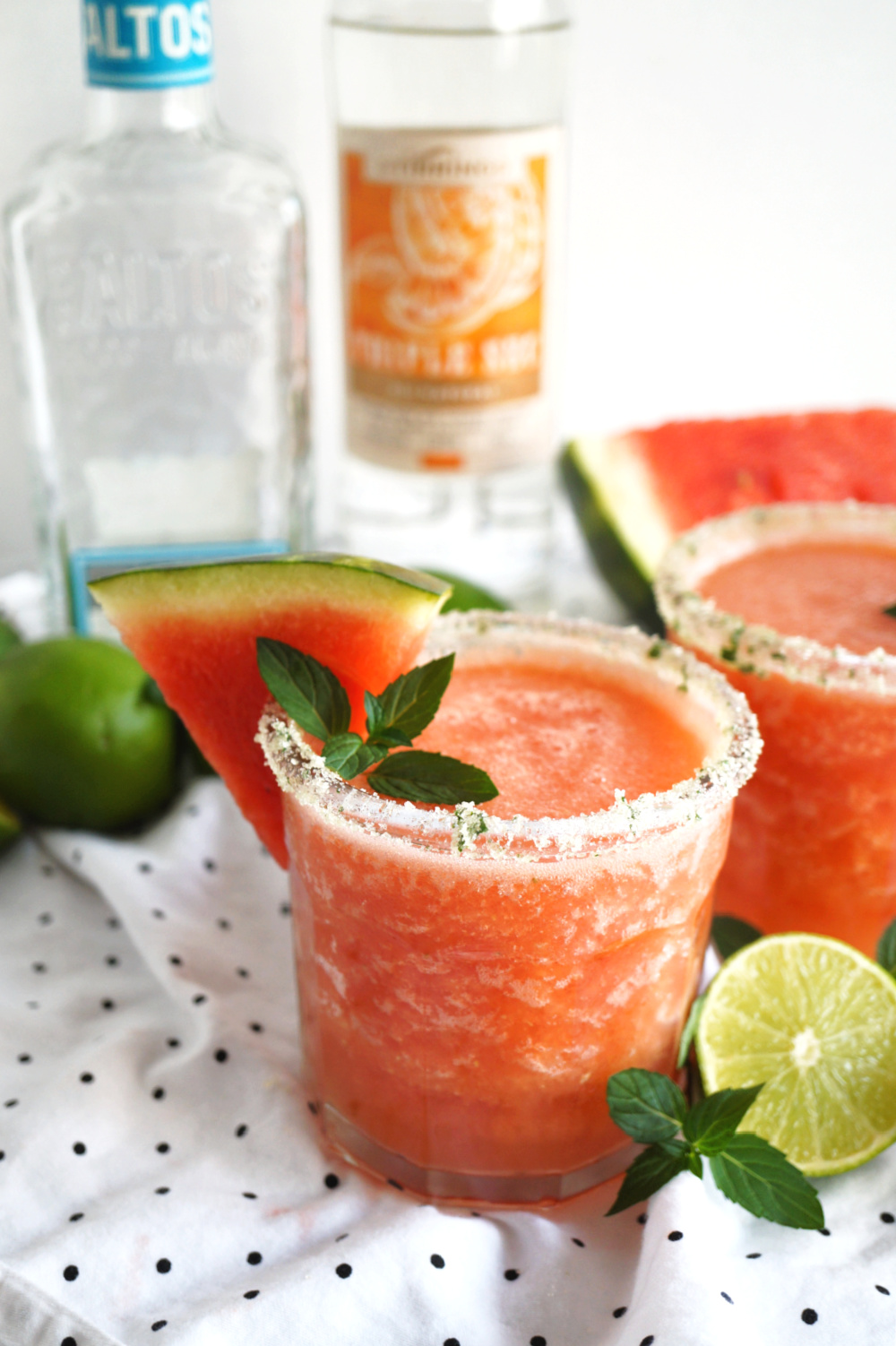 Author:
Valentina | The Baking Fairy
*to make the mint syrup*
½ cup water
½ cup white granulated sugar
½ cup fresh mint leaves
*for the margaritas*
2 cups diced watermelon, frozen
1 cup ice
2 oz lime juice (about 3 limes)
4 oz tequila
1 oz triple sec
3 oz mint syrup (see above - or substitute regular simple syrup or agave syrup)
1 tbsp white sugar + 2-3 mint leaves, for rim
First, make the mint syrup if desired. Combine the water and sugar in a small saucepan, and add in the fresh mint leaves. Turn heat onto medium-high, and heat mixture until sugar dissolved, whisking often.
Let syrup boil for 3-5 minutes, then turn heat off and remove pan from heat. Let syrup cool to room temperature, then transfer to a jar or bottle and refrigerate until needed.
To make the margaritas, combine the frozen watermelon with the ice, lime juice, tequila, triple sec, and the mint syrup you made. Blend until smooth.
To make the mint sugar, rub together the white sugar and mint until the mint is broken down into small flecks and has infused the sugar. When ready to serve, rub a slice of lime along the rim of your glasses, and dip them into the mint sugar.
Divide frozen margaritas among your two cups, and enjoy! You can garnish with additional mint and fresh watermelon.
Recipe by
The Baking Fairy
at https://www.thebakingfairy.net/2020/07/watermelon-mint-frozen-margaritas/