herb tofu skewers with chimichurri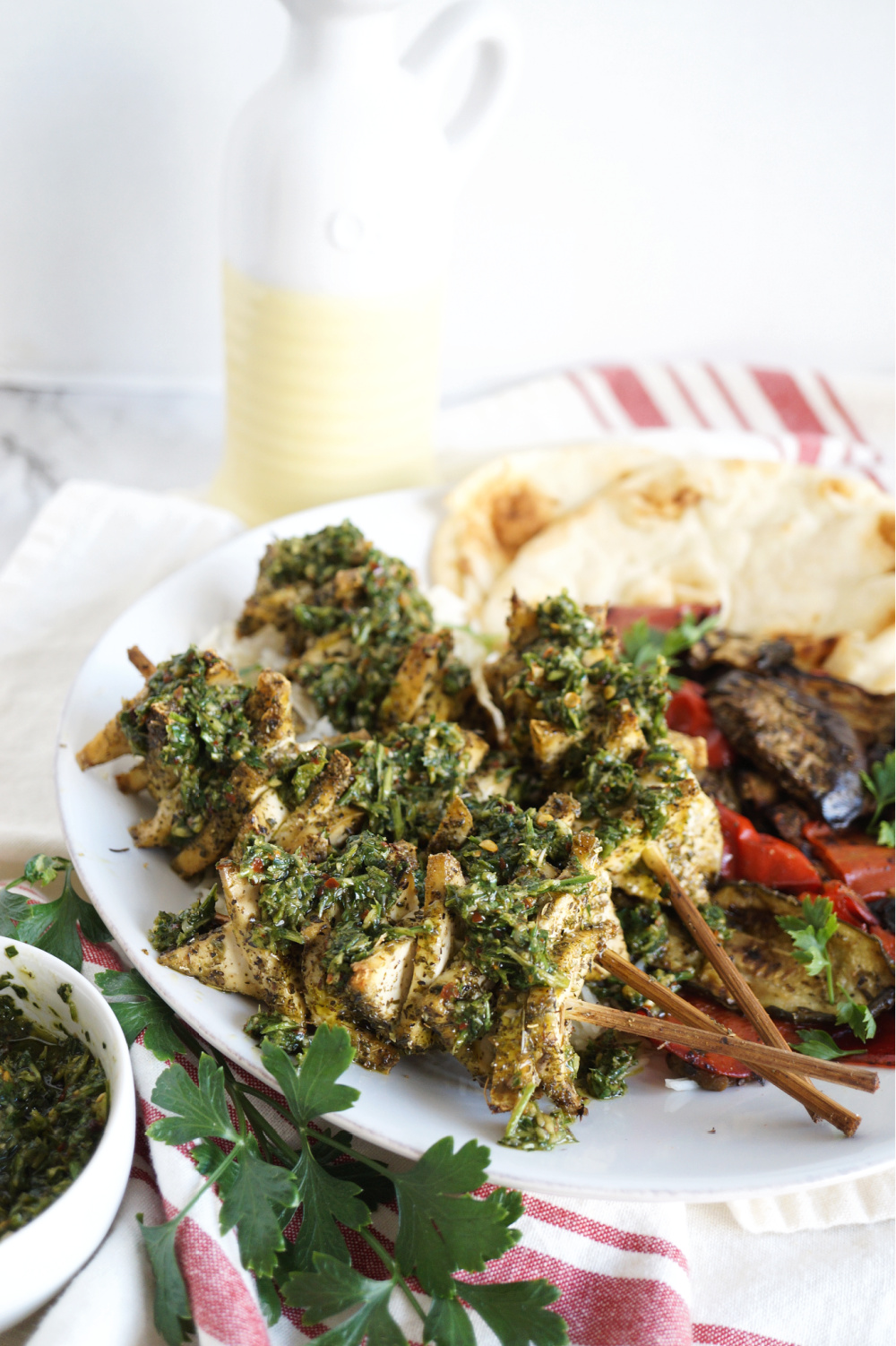 Author:
Valentina | The Baking Fairy
*for the tofu skewers*
1 14oz package extra firm tofu
2 tbsp Italian Herb mix
2 tbsp olive oil
½ tsp salt
½ tsp pepper
*for the chimichurri sauce*
1 cup fresh parsley
2 tbsp fresh oregano leaves (can substitute with 1 tbsp dry oregano)
4 cloves of garlic
1 tbsp white wine vinegar
½ cup olive oil
1 tsp crushed red chili flakes
½ tsp salt
½ tsp black pepper
First, prepare the tofu by pressing it. This will get rid of any excess liquid. Wrap your block of tofu in a few layers of paper towels or a tea towel, and place on a plate. Top with a second plate or cutting board, and place 1-2 cookbooks on top to apply pressure. Allow tofu to press for 15-20 minutes.
Meanwhile, prepare the chimichurri. Combine all chimichurri ingredients in a food processor, and pulse until everything is finely chopped and combined. Add more olive oil if it is too thick. Taste and add more spices as desired. Set aside for now.
When ready to cook the tofu, preheat oven to 425F. Set a wire cooling rack over a baking sheet, and spray or brush with olive oil.
Unwrap your tofu, and cut your block in half lengthwise to create two long rectangles. Cut each of these in half diagonally to create 4 long triangle-shaped pieces. Slice into roughly ⅛" pieces - don't make them too thin or they will break apart when you thread them on your skewers! Repeat with all.
Carefully thread the tofu triangles on your skewers. I was able to make 7 short skewers.
Place your tofu skewers on your prepared wire rack. Drizzle them all with the olive oil, and sprinkle with the dried Italian herbs, salt, and pepper. Bake in preheated oven for 25 minutes, flipping halfway through, until skewers are golden brown and fragrant.
Serve tofu skewers with the chimichurri sauce, and enjoy!
Recipe by
The Baking Fairy
at https://www.thebakingfairy.net/2020/08/herb-tofu-skewers-with-chimichurri/