vegan pumpkin swirl brownies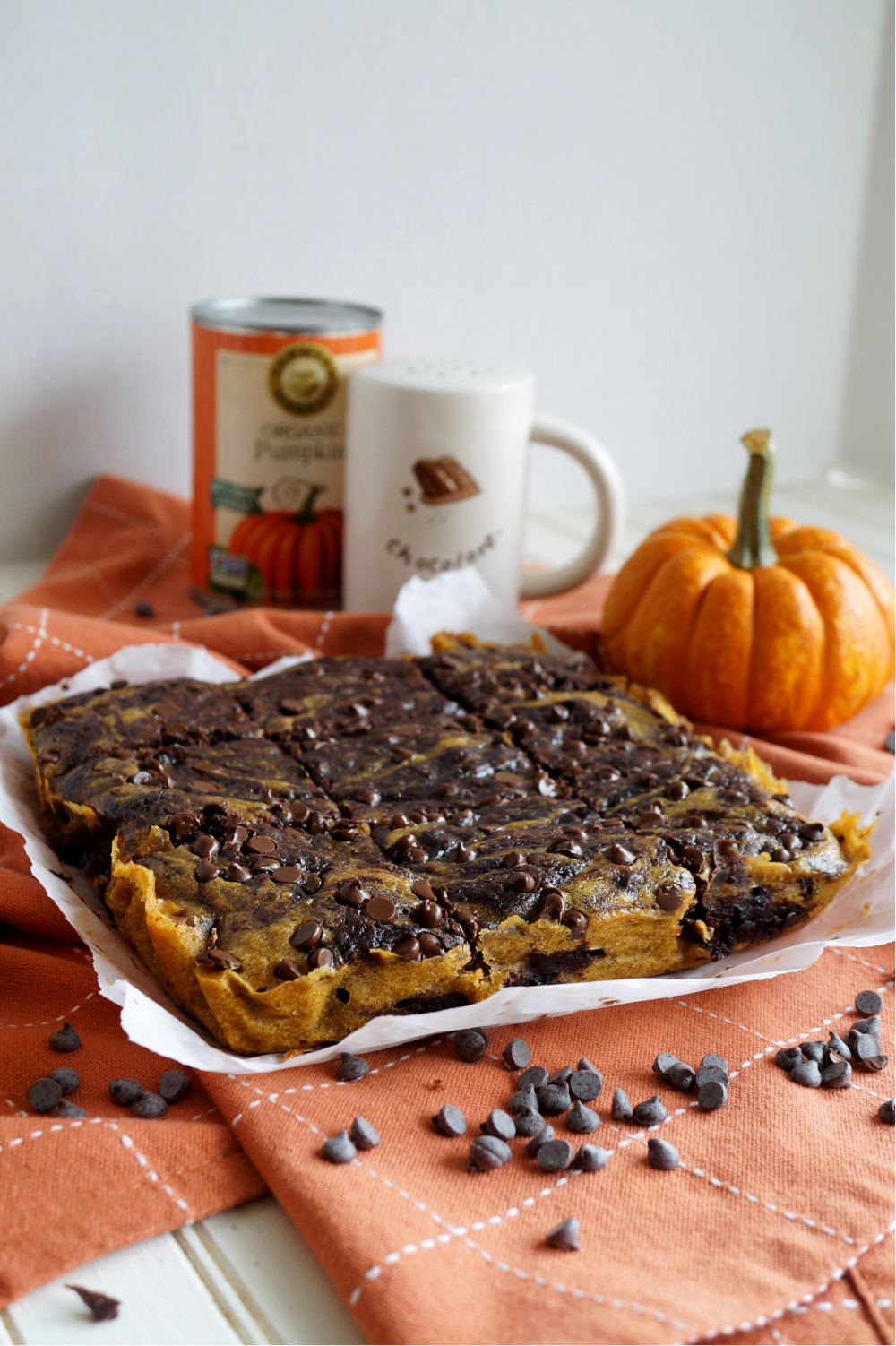 Author:
Valentina | The Baking Fairy
Recipe type:
Brownies & Bars
2 tbsp ground flaxseed + 6 tbsp warm water
1 cup white sugar
1 cup all-purpose flour
¼ teaspoon salt
¼ teaspoon baking powder
½ cup melted vegan butter
1 tsp vanilla
¼ cup cocoa powder
2 tbsp nondairy milk
¼ cup vegan chocolate chips
¼ cup pumpkin puree
1 tsp pumpkin pie spice
Preheat oven to 350F, and line an 8x8 baking pan with parchment (this is important, if you just use baking spray they WILL stick).
In a small bowl, mix together the flaxseed and water, and set aside for now.
In a medium bowl, whisk together the sugar, flour, salt, and baking powder.
Add in the vegan butter and vanilla, followed by your flaxseed mixture. Mix to combine.
Now, transfer HALF of this mixture to a different bowl! To one half of the mixture, add in the cocoa powder, milk, and chocolate chips. To the other half, add in the pumpkin puree and pumpkin spice.
Now, add alternating spoonfuls of brownie batter and pumpkin batter to your prepared baking pan until you've used it all up. Use a spoon or a butter knife to gently swirl the batter together to make a marbled effect. Sprinkle additional chocolate chips on top if desired.
Bake brownie in preheated oven for 35-40 minutes, until barely set in the middle and a toothpick inserted comes out clean (aside from the melted chocolate chips).
Let brownie cool slightly, then slice and enjoy!
Recipe by
The Baking Fairy
at https://www.thebakingfairy.net/2020/09/vegan-pumpkin-swirl-brownies/