vegan marshmallow spiderweb cake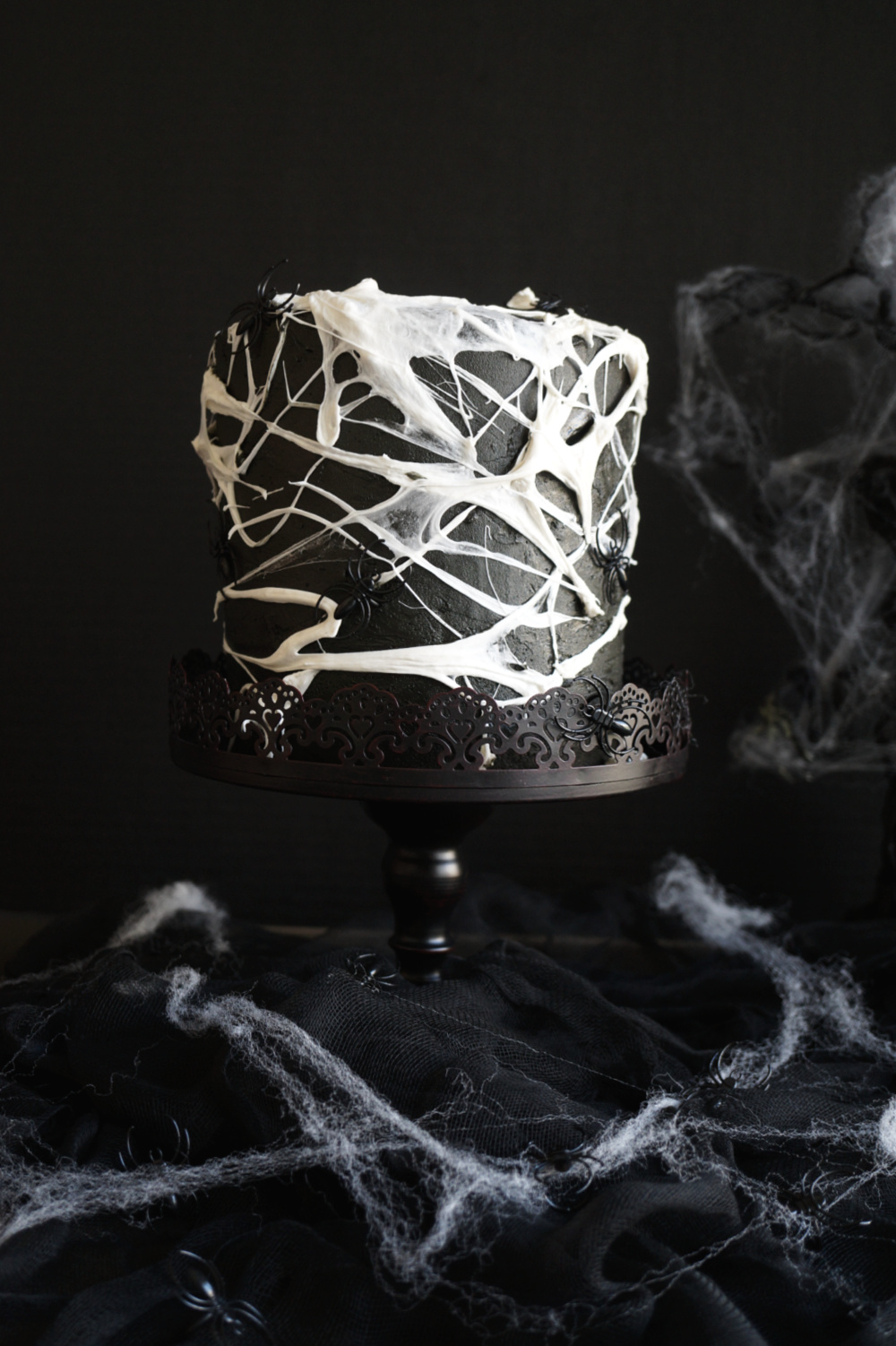 Author:
Valentina | The Baking Fairy
*for the cake*
2½ cups all-purpose flour
2 cups white granulated sugar
1 cup cocoa powder
2 tsp baking powder
1 tsp baking soda
½ tsp salt
2 cups unsweetened nondairy milk
⅔ cup vegetable oil
4 tbsp white vinegar
1 tsp vanilla extract
1 tsp Baker's extract
1 tsp chocolate extract
a few drops of black food coloring
*for the marshmallow filling*
1 cup vegan marshmallows
1 tbsp corn syrup
1 tbsp nondairy milk
*for the frosting*
3½ cups powdered sugar
½ cup cocoa powder
½ cup vegan butter
½ cup vegan shortening
¼ cup nondairy milk, more or less as needed
1 tsp Rodelle vanilla extract
pinch of salt
black food coloring as needed for desired color
*for the marshmallow spiderweb decorations*
1 cup vegan marshmallows
First, make the chocolate cake. Preheat the oven to 350F. Spray three 6" round cake pans with baking spray, and set aside.
In a large bowl, whisk together the flour, cocoa, sugar, salt, baking powder, and baking soda.
Add in the nondairy milk and oil, and mix vigorously. Add in the vinegar, vanilla, chocolate, and Baker's extract and mix until well combined. Finally, add in a few drops of black food coloring and mix to combine.
Pour the batter into the prepared pan, and bake for 25-30 minutes.
Let cakes cool slightly, then turn onto a wire rack to finish cooling off.
While the cakes cool, you can prepare the chocolate frosting.
Beat the vegan butter and vegan shortening until creamy in the bowl of a stand mixer fitted with the paddle attachment.
Add in the cocoa powder, followed by the powdered sugar, one cup at a time. Add the nondairy milk if needed - add more or less as needed to get the right consistency.
Stir in the salt and vanilla extract. Add in black food coloring until frosting reaches your desired color - keep in mind that the color will darken as it sits as well.
Finally, make the marshmallow filling.
Combine the marshmallows, corn syrup, and nondairy milk in a microwave-safe bowl. Microwave in 15 second increments, until mixture is smooth and silky. Set aside to cool slightly before using.
When ready to assemble, flip cakes out of the pans and trim the tops off to make them level.
To assemble, place one of the cake layers on a serving platter or cake circle.
Spread a thin layer of chocolate frosting on top. Then pipe a circle of frosting on top of the cake, close to the edge, and spoon in some of the marshmallow cream. Repeat with the remaining cake layers.
Using an offset spatula, smooth on top and outside of the cake for a crumb coat.
Place the cake in the fridge for at least 10-15 minutes, until the crumb coat is solid, before putting on the final coat of frosting. After you are done frosting, make the marshmallow spiderwebs.
Place the marshmallows in a microwave-safe bowl, and heat in 15-20 second increments until smooth and melted. Mix together to make a smooth, fluffy cream.
Working quickly but carefully, grab a small amount of the melted marshmallows (about dime sized) between your fingers, and rub together to create stringy webs. Stretch your webs over the cake. Repeat until cake looks as desired. You will have to reheat the marshmallows several times, as they harden quickly once cooled. Decorate the cake with plastic spiders as well, if desired.
Recipe by
The Baking Fairy
at https://www.thebakingfairy.net/2020/10/vegan-marshmallow-spiderweb-cake/