vegan apple cranberry galette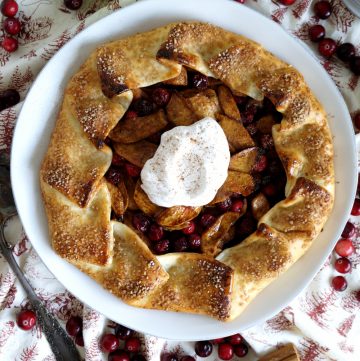 Author:
Valentina | The Baking Fairy
Recipe type:
Pies & Tarts
1 refrigerated pie crust (store-bought or homemade)
3 medium apples, peeled and sliced thinly (about 4 cups)
1 cup fresh cranberries
¾ cup coconut sugar or brown sugar
2 tbsp all purpose flour
2 tbsp citrus juice (I used clementine)
1 tbsp vanilla extract
2 tsp ground cinnamon
pinch of salt
*for the crust* - 1-2 tbsp nondairy milk & turbinado sugar
First, preheat oven to 425F. Grab your pie crust, and carefully roll it out to a rough circle about 12" across. Place on a piece of parchment or silicone liner on a baking sheet.
To prepare the apples, wash, peel, and core them. Cut into fourths and slice them thinly. Wash the cranberries and shake off any excess water.
Place everything in a large bowl and toss with the coconut or brown sugar, flour, cinnamon, vanilla, and citrus juice.
Mix until combined, then pour into the middle of your prepared crust. Be sure to leave any excess liquid in the bowl to avoid a soggy crust.
Gently fold over the sides of the galette around the apple filling. To finish, brush the crust with some nondairy and sprinkle it with the turbinado sugar.
Bake galette for 35-40 minutes, until golden brown and crisp.
Serve topped with the vegan whipped cream or ice cream!
Recipe by
The Baking Fairy
at https://www.thebakingfairy.net/2020/11/vegan-apple-cranberry-galette/