vegan carrot cake cupcakes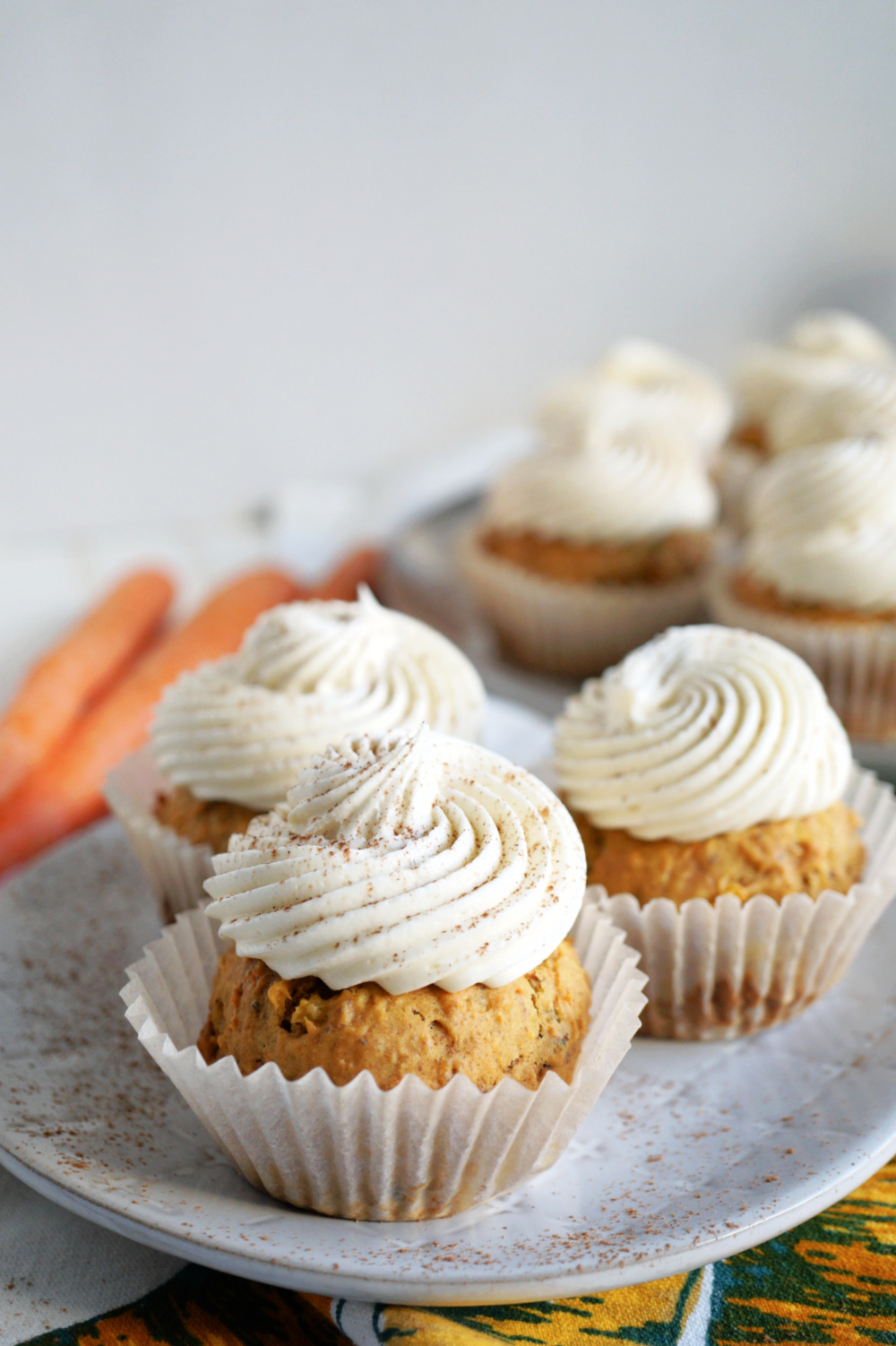 Author:
Valentina | The Baking Fairy
1 tbsp ground flax + 3 tbsp water
1 cup grated carrots (about 2 medium carrots)
½ cup crushed pineapple
¼ cup oil
½ cup brown sugar
2 tbsp vanilla extract
1 tsp cinnamon
1¾ cup all-purpose flour
1 tsp baking powder
1 tsp baking soda
¼ tsp salt
¼ cup raisins
¼ cup walnut pieces
*for the frosting*
½ cup vegan butter
½ cup shortening
1 tbsp vanilla extract
1 tbsp vanilla bean paste
4 cups powdered sugar
1-2 tbsp nondairy milk (more or less as needed)
To make the cupcakes, first preheat oven to 350F. Line two cupcake trays with cupcake wrappers.
In a small bowl, whisk together the ground flaxseed with the water and set aside to thicken.
Grate your carrots using a grater or food processor, and add them to a large bowl. Mix in the crushed pineapple, oil, brown sugar, vanilla, and cinnamon. Stir to combine.
Add in your flour, baking powder, baking soda, and salt, and mix.
Finally, fold in the raisins and walnut pieces.
Fill your cupcake wrappers about ⅔ of the way, and bake for 18-20 minutes, until a toothpick inserted in the center comes out clean. Set the cupcakes aside to cool.
To make the frosting, beat together the butter and shortening until smooth and creamy. Add in the vanilla extract and vanilla bean paste, and mix to combine.
Beat in the powdered sugar, one cup at a time, until frosting is smooth and creamy but firm enough to be piped. If it is too stiff, add in a bit of nondairy milk.
Decorate the cupcakes as desired using the frosting - I used an 8B large star tip and sprinkled with cinnamon. Enjoy!
Recipe by
The Baking Fairy
at https://www.thebakingfairy.net/2021/04/vegan-carrot-cake-cupcakes/