vegan cheesy zucchini fritters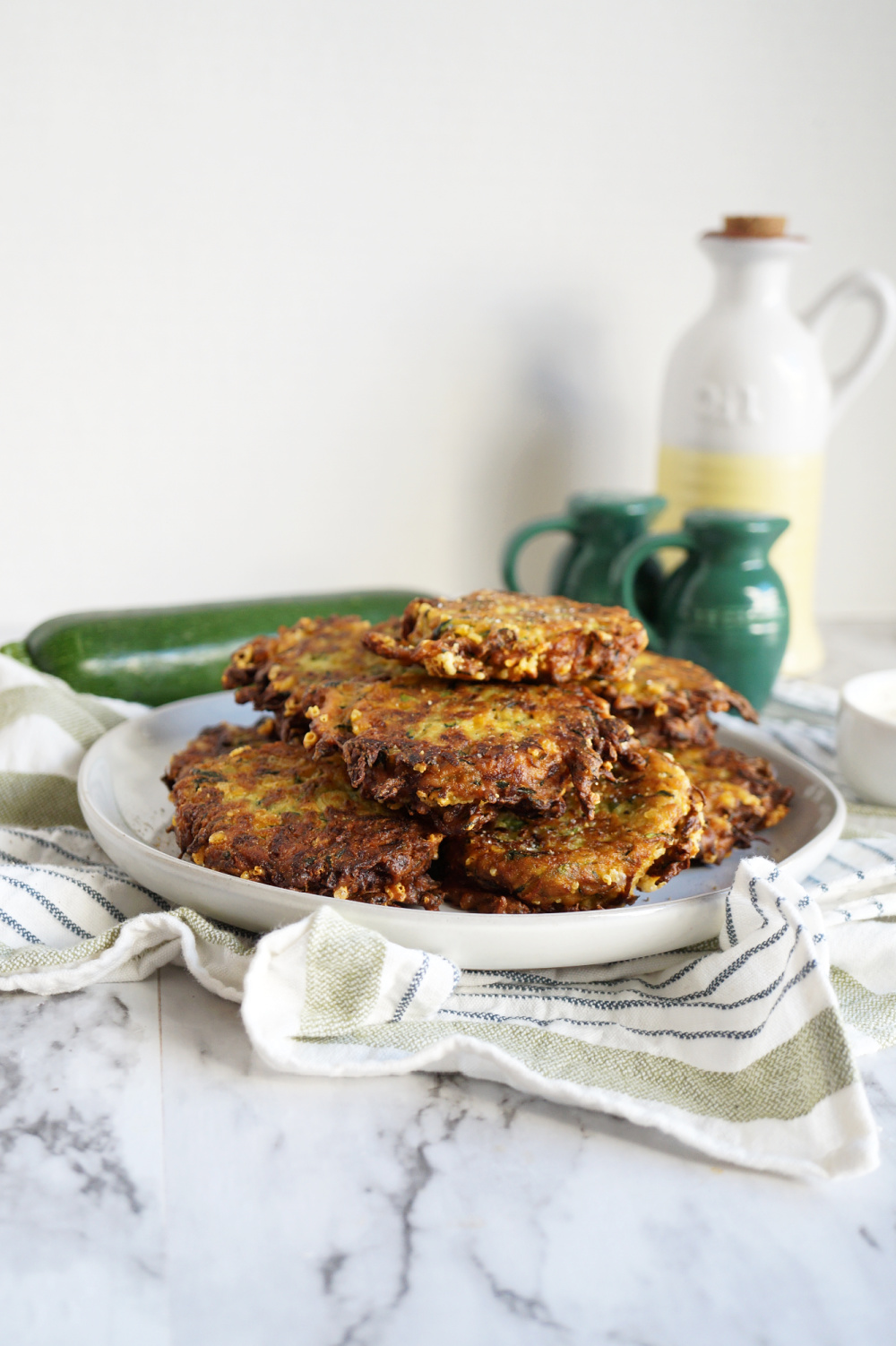 Author:
Valentina | The Baking Fairy
2 cups shredded zucchini (about 2 medium zucchini)
3 green onions, chopped
½ tbsp minced garlic (about 3 cloves)
½ tsp garlic powder
½ tsp salt
½ tsp freshly cracked black pepper
2 tbsp nutritional yeast
½ cup shredded vegan cheese
½ cup - ¾ cup garbanzo bean flour (more or less as needed)
1 cup vegetable oil, for frying
First, grate the zucchini either by hand or using a food processor. Place your shredded zucchini in a tea towel or several layers of paper towels, and squeeze out as much excess water as possible.
Add the drained zucchini to a large bowl, and to it, mix in the green onions, minced garlic, garlic powder, salt, pepper, nutritional yeast, and shredded vegan cheese.
Mix in ½ cup of the garbanzo flour, until mixture is thick and like a soft cookie dough consistency. Add more garbanzo flour as needed if it is too runny.
To cook, heat the vegetable/canola oil in a large shallow pan over medium heat. When the oil shimmers, it is ready to fry.
Add spoonfuls of the batter carefully into the oil to create fritters. Cook the fritters on each side until golden brown, about 4-6 minutes per side. When cooked, remove the fritters from the oil and place on a plate or baking sheet lined with paper towels to absorb the excess oil. Sprinkle with salt and pepper while still warm.
Serve immediately with mayonnaise or your favorite sauce for dipping!
Recipe by
The Baking Fairy
at https://www.thebakingfairy.net/2021/04/vegan-cheesy-zucchini-fritters/