vegan oreo pumpkin cupcakes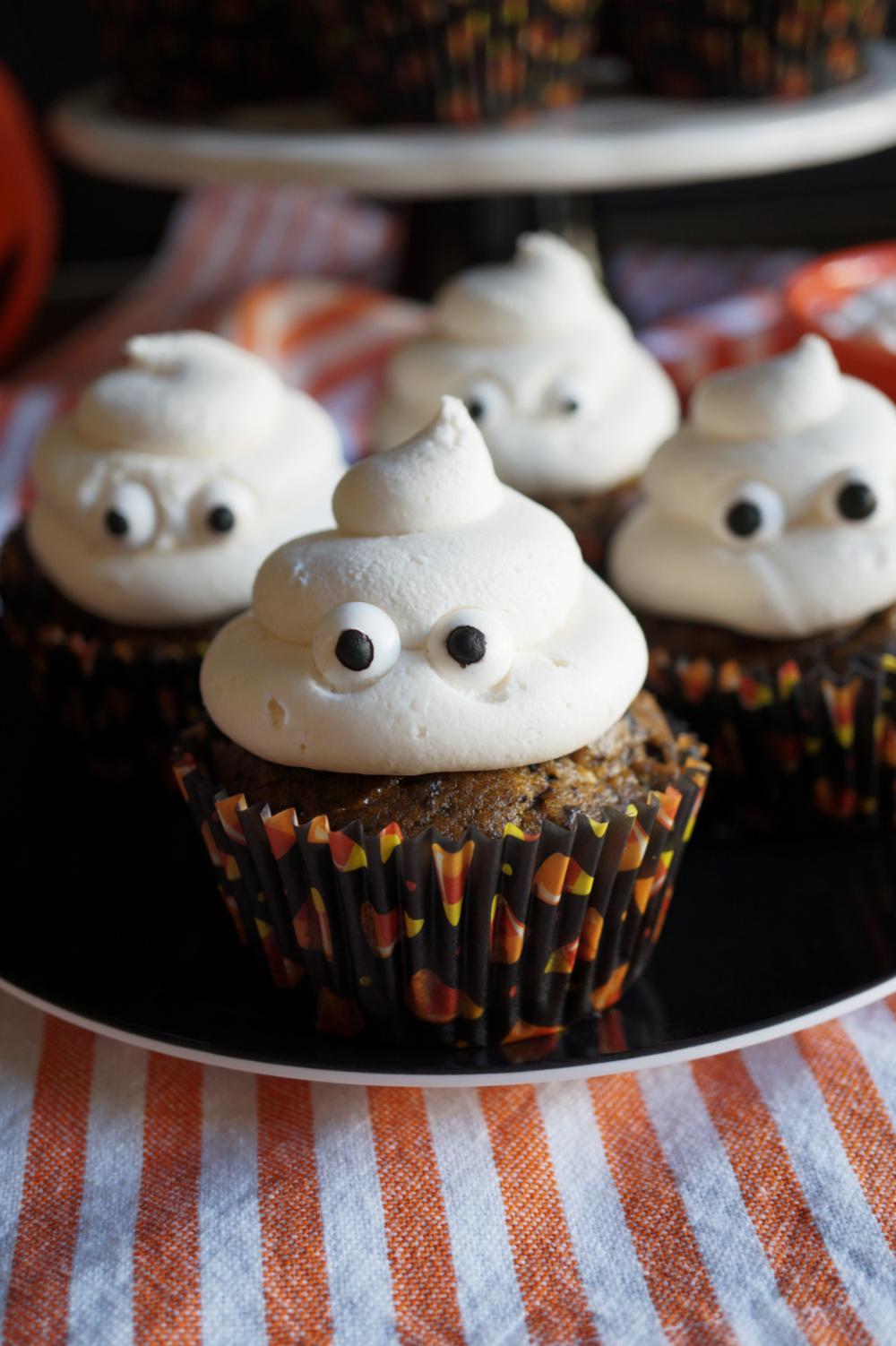 Author:
Valentina | The Baking Fairy
*for the cupcakes*
1 cup pure pumpkin puree
⅓ cup vegetable oil
¾ cup packed brown sugar
1 cup nondairy milk
2 cups all purpose flour
1 teaspoon baking soda
2 teaspoon baking powder
pinch of salt
1 teaspoon pumpkin spice mix
½ tablespoon vanilla extract
10 crushed chocolate sandwich cookies (about 1 cup of crumbs)
*for the frosting*
1 cup vegan shortening
1 cup vegan butter
4 cups powdered sugar
1 tablespoon vanilla extract
½ tablespoon vanilla bean paste
pinch of salt
1-2 tablespoon nondairy milk, as needed
candy eyeballs
First, make the cupcakes. Preheat the oven to 350F, and prepare about 24 cupcake lines in a pan.
In a large bowl, mix together the pumpkin puree, vegetable oil, brown sugar, and milk.
Add in the flour, baking powder, baking soda, salt, pumpkin spice, and vanilla. Mix to combine.
Finally, gently fold in the chocolate cookie crumbs.
Fill each cupcake liner about ⅔ of the way full. You should get 20-24 cupcakes.
Bake in preheated oven for 20 minutes, until a toothpick inserted in the center comes out clean.
Let cupcakes cool completely before frosting.
When ready, prepare the frosting.
Place the vegan shortening and vegan butter in the bowl of a stand mixer, and beat together until smooth and creamy. Add in the vanilla extract, vanilla paste salt, and mix to combine.
Mix in the powdered sugar, about 1 cup at a time, until a thick frosting forms. It is normal to need a bit of milk to get the consistency just right.
When the cupcakes are cooled, spoon your frosting in a piping bag fitted with a large round (2A) tip, and pipe a swirl of frosting on top of each cupcake. Top with candy eyeballs to make your "ghosts" and you are one!
Recipe by
The Baking Fairy
at https://www.thebakingfairy.net/2021/10/vegan-oreo-pumpkin-cupcakes/