vegan chocolate bundt cake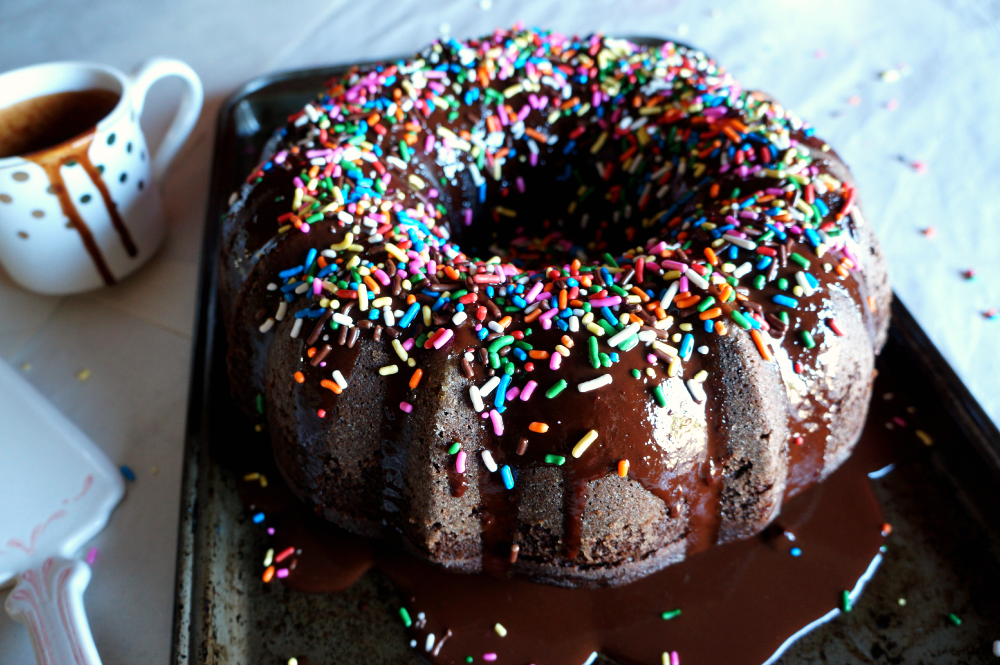 Author:
Valentina | The Baking Fairy
*for the cake*
2½ cups all-purpose flour
2 cups white granulated sugar
1 cup cocoa powder
2 tsp baking powder
1 tsp baking soda
½ tsp salt
1 cup unsweetened nondairy milk
1 cup water
⅔ cup vegetable oil
4 tbsp white vinegar
1 tbsp vanilla extract
*for the glaze*
½ cup unsweetened canned coconut milk (or other nondairy milk)
1 cup vegan chocolate chips
sprinkles, for topping
Preheat the oven to 350F.
Spray a bundt cake pan with nonstick spray, dust with flour, and set aside.
In a large bowl, whisk together the flour, cocoa, sugar, salt, baking powder, and baking soda.
Add in the nondairy milk, water, and oil, and mix vigorously. Add in the vinegar and vanilla, and mix until well combined.
Pour the batter into the prepared pan, and bake for 40-45 minutes.
Let cake cool completely before removing from the pan.
While the cake cools, make the glaze.
If using full-fat coconut milk, be sure to shake the can to combine. Light coconut milk usually does not separate.
Combine the coconut milk and chocolate chips in a microwave-safe bowl, and heat in 30 second intervals, mixing in-between, until the mixture is smooth and melted.
Once cake is cooled, flip onto a plate and pour the glaze on top. Top with sprinkles and serve!
Recipe by
The Baking Fairy
at https://www.thebakingfairy.net/2014/09/vegan-chocolate-bundt-cake/