Guest Post from Loose Leaf Vegan: Mocha Vegan Cheese Cake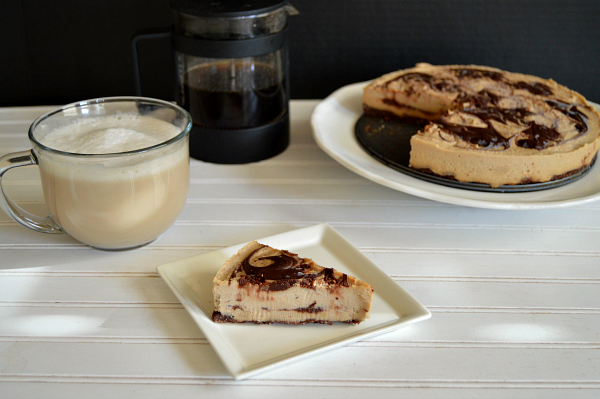 Author:
Valentina | The Baking Fairy
*Crust*
1¼ cup almonds
3 tbsp cocoa powder
3 tbsp agave
*Filling*
3 cups soaked cashews - soaked at least for 3 hours
½ cup melted coconut oil
½ cup agave
¼ tsp salt
½ cup brewed espresso
*Ganache*
½ cup cocoa powder
½ cup melted coconut oil
½ cup maple syrup
In food processor, combine all the ingredients for the crust and pulse until fine. Press the crust evenly onto the bottom of a spring form pan.
Fill a high powered blender with your filling ingredients. Blend your filling ingredients until smooth and silky, about 3-5 minutes.
In a small bow,l whisk together the ingredients of your ganache until smooth.
Pour a little bit of your cheesecake filling into the bottom of the spring form pan, just enough to completely cover the crust. Use a spoon to dollop little bits of your ganache on top of the cheesecake filling.
Use a toothpick to create spirals by dragging it through the center of each dollop outwards. Layer your cheesecake filling on top of the ganache layer and repeat dolloping your ganache and creating spirals on top of that. I did about 4 dollops of ganache per layer and did 3 complete layers.
Place your layered cheesecake in the freezer for 6-8 hours.
If you like your cheesecake firmer, or prefer the consistency of ice cream, you can eat your cheesecake right out of the freezer. If you prefer a more traditional creamy consistency, allow your cake to thaw for 5-10 minutes before serving.
Recipe by
The Baking Fairy
at https://www.thebakingfairy.net/2015/02/vegan-mocha-cheesecake-guest-post-by-loose-leaf-vegan/