Polenta con Salsiccia e Funghi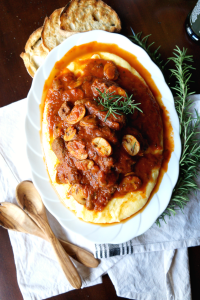 Author:
Valentina | The Baking Fairy
Recipe type:
Meat & Seafood
1 cup Colavita instant polenta
3 cups water
1 cup whole milk
½ cup freshly grated Parmesan cheese
2 tbsp butter
1 package sweet Italian sausages
1 tbsp Colavita extra virgin olive oil
3 cloves garlic, crushed
8 oz fresh Cremini mushrooms, thickly sliced
¼ cup red wine
1 jar Colavita tomato and basil pasta sauce
salt and pepper, to taste
pinch of sugar
First, start the sauce. In a large pan, heat the olive oil over medium-high heat. Once the oil shimmers slightly, add in the Italian sausages, and cook until browned (they do not have to be cooked all the way at this point).
Toss in the garlic, mushrooms, and some salt and pepper to taste, and saute until the mushrooms have softened. Add in the red wine, and cook until most of the liquid has evaporated and the sauce in the pot has thickened.
Add in the jar of pasta sauce and a small pinch of sugar, lower the heat down to low, and let the sauce simmer for at least 1 hour.
Shortly before serving, make the polenta. In a large nonstick pot, heat the milk and water to boiling. Add in one cup of polenta, stirring constantly, until the mixture thickens and turns creamy (about 5 minutes).
Remove from heat, and stir in the Parmesan cheese, butter, and salt and pepper as needed.
To serve, scoop some polenta in a bowl, and top with the sauce. Enjoy immediately!
Recipe by
The Baking Fairy
at https://www.thebakingfairy.net/2015/11/join-my-italian-holiday-table/