spinach artichoke dip stuffed crescent rolls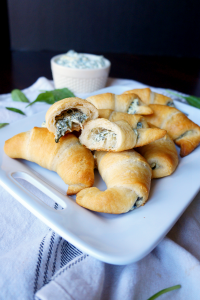 Author:
Valentina | The Baking Fairy
2 cans refrigerated crescent rolls
1 tbsp olive oil
2 cloves garlic, finely minced
1 cup frozen spinach
1 can quartered artichokes
1 block (8oz) cream cheese
½ cup sour cream
½ cup shredded mozzarella cheese
½ cup grated Parmesan cheese
salt, garlic powder, and chili flakes to taste
Preheat the oven to 350F, and line two baking sheets with parchment.
In a small nonstick pot, heat the olive oil and garlic over medium-high heat. Once it starts to sizzle, add in the frozen spinach and about ⅓ cup of water. Let the mixture cook until the spinach is soft and thawed out, and most of the water has evaporated.
Add the drained can of artichokes to the pot, then remove from heat.
Add in the cream cheese, mozzarella, and parmesan, and stir until combined.
Add in the sour cream, salt, garlic powder, and chili flakes to taste.
Open the two cans of crescent rolls, and unroll the triangles. Place a small amount of dip (1-2 tbsp) on the wider side of the triangle, then carefully roll it up to a crescent. Repeat with all.
Bake crescents for 12-15 minutes, until golden brown and delicious. Serve immediately!
Recipe by
The Baking Fairy
at https://www.thebakingfairy.net/2015/11/spinach-artichoke-dip-stuffed-crescent-rolls/