spiked italian hot chocolate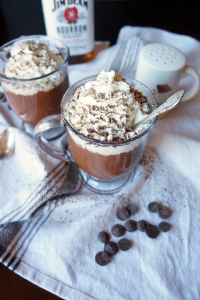 Author:
Valentina | The Baking Fairy
1 cup dark chocolate chips
2½ cups skim milk
1 tbsp cornstarch
bourbon or desired alcohol, to taste
In a medium saucepan, heat 2¼ cups of the milk and the chocolate chips over medium-high heat.
In a small bowl, whisk together the remaining ¼ cup of milk with the cornstarch until smooth.
When the chocolate is smooth and melted, whisk in the milk + cornstarch mixture and let everything come to a low boil.
Remove pan from heat, and whisk in the alcohol. Divide the hot chocolate into two mugs, and top with whipped cream. Enjoy immediately!
Recipe by
The Baking Fairy
at https://www.thebakingfairy.net/2015/12/spiked-italian-hot-chocolate/