berry & lemon curd meringue cake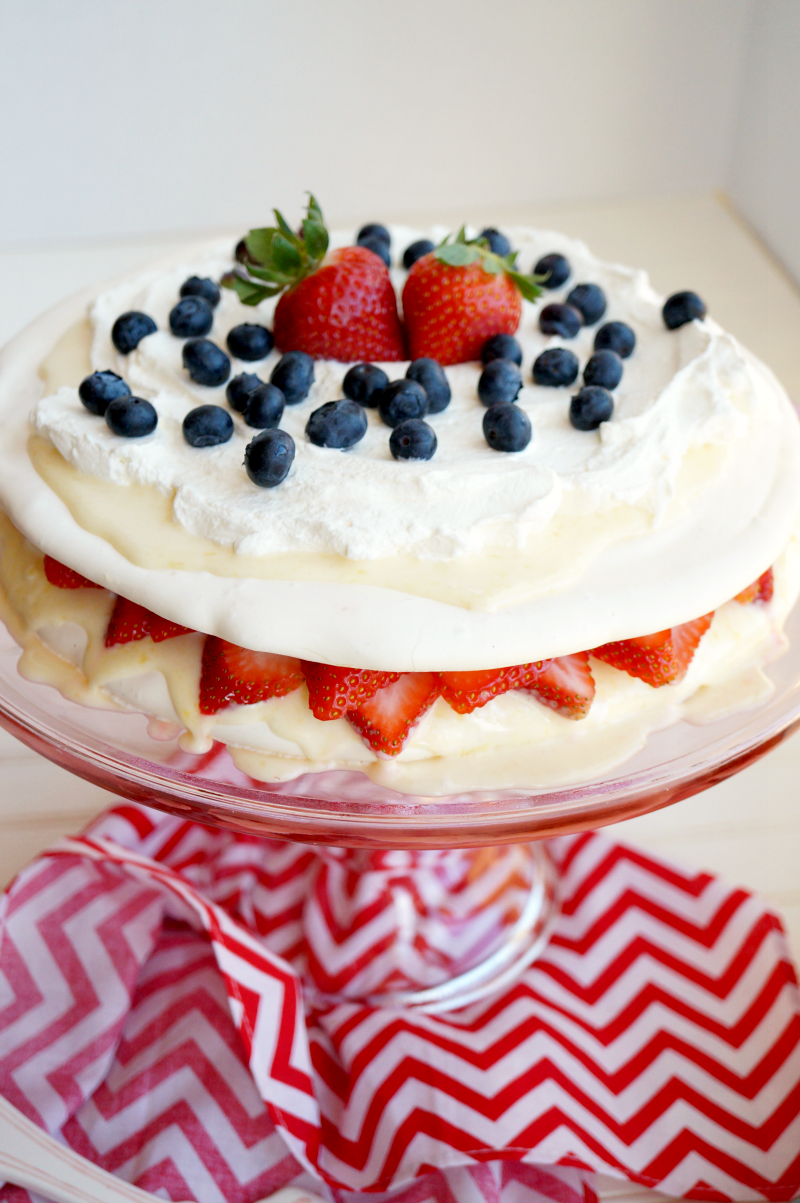 Author:
Valentina | The Baking Fairy
6 egg whites
2 cups powdered sugar
½ tsp cream of tartar
1 tsp lemon juice
½ tsp vanilla extract or vanilla bean paste
pinch of salt
1 cup heavy whipping cream
1 cup lemon curd (find link to recipe in post)
½ cup fresh blueberries
1 cup fresh strawberries, sliced
Preheat the oven to 210F.
In the bowl of a stand mixer fitted with the whisk attachment, beat the egg whites and cream of tartar until they form very stiff peaks.
Beat in the powdered sugar, a spoonful at a time, until completely incorporated.
Add in the lemon juice, vanilla, and salt.
Grab two pieces of parchment paper, and trace the outline of an 8" cake pan on each. Invert the pieces so that the pen is on the underside (and won't touch your food) and place on a baking sheet.
Evenly divide the meringue mixture between the two pieces of parchment, gently spreading using a spatula.
Bake in preheated oven for 1½-2 hrs, until completely dry to the touch but not browned in any way. Let meringue disks cool completely before continuing.
When ready to assemble, beat the whipping cream in your stand mixer using the whisk attachment, until stiff peaks form.
Place one of the meringue disks on a serving platter, and top with half the lemon curd, half the whipped cream, and half the berries. Top with the other disk, and the remaining curd, cream, and berries. Serve immediately for a crisper meringue, or allow to sit in the fridge for a couple hours for a slightly softer meringue.
Recipe by
The Baking Fairy
at https://www.thebakingfairy.net/2016/01/berry-lemon-curd-meringue-cake/