homemade moo-llennium crunch ice cream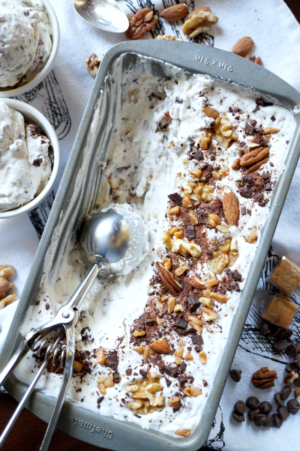 Author:
Valentina | The Baking Fairy
1 pint heavy whipping cream
1 14oz can sweetened condensed milk
½ tbsp vanilla extract
1 cup finely chopped chocolate
1 cup chopped caramel bits (about 15 of the individually-wrapped ones)
⅓ cup pecans
⅓ cup walnuts
⅓ cup almonds
First, prepare all the mix-ins. For the chocolate, I simply chopped up a king-sized Hershey's chocolate bar in small bits which ended up being about one cup. For the caramel, I bought the bag of individually-wrapped chewy caramels and chopped them into small bits.
I decided to toast the nuts which you can also do if you want (optional). I simply heated them up in a dry skillet over medium-high heat, stirring often, until they smelled fragrant and were lightly toasted about 2-3 minutes. Let the nuts cool slightly then chop roughly.
In the bowl of a stand mixer fitted with the whisk attachment (or handheld beaters), whip the heavy cream to stiff peaks.
Once stiff peaks are reached, slowly drizzle in the sweetened condensed milk while the mixer is still running, until everything is well incorporated. Finally, mix in the vanilla extract.
Pour about ⅓ of the ice cream base mixture into your desired ice cream container (I like using 9x5 loaf pans}, and top with ⅓ of each topping. Using a knife or small spoon, lightly swirl and mix the toppings into the ice cream. Repeat twice more with the base and toppings.
Cover the ice cream pan tightly with foil, and freeze until solid (at least 6 hours). Enjoy!
Recipe by
The Baking Fairy
at https://www.thebakingfairy.net/2016/05/homemade-moo-llennium-crunch-ice-cream/