triple chocolate poke cake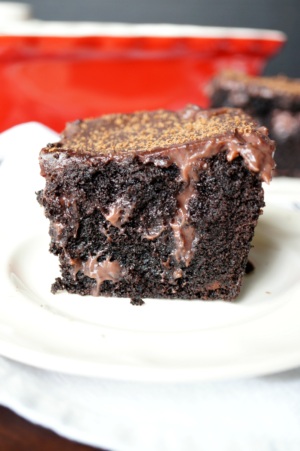 Author:
Valentina | The Baking Fairy
1½ cups all-purpose flour
⅔ cups dark cocoa powder
1½ tsp baking powder
½ tsp baking soda
¼ tsp salt
¾ cups whole milk
1 tsp vanilla extract
¾ cup unsalted butter, softened
1½ cups sugar
3 eggs
1 cup chocolate chips
1 large package chocolate pudding mix (3.4 oz) + milk called for on package
Preheat the oven to 350F. Grease and flour a 9x13 baking pan, and set aside.
In medium bowl, whisk together flour, cocoa, baking powder, baking soda, and salt. In a measuring cup, mix together milk and vanilla.
Using your stand mixer, beat butter and sugar till blended. Increase speed to high and beat for 2 minutes. Reduce speed to medium-low and add eggs one at a time, beating well after each addition.
With mixer at low speed, alternatively add the flour mixture and the milk mixture, starting and finishing with the flour. Beat until batter is smooth, occasionally scraping bowl with a spatula.
Mix in the chocolate chips then pour batter into prepared pan; spread evenly. Bake until toothpick inserted in center comes out clean, 25-30 minutes.
Let cake cool slightly, then using the handle of a wooden spoon, poke holes evenly over the surface of the cake.
Prepare pudding according to package directions, and pour over the cake before it sets.
Place cake in fridge for 2-3 hours, until pudding has set and solidified.
Enjoy with whipped cream!
Recipe by
The Baking Fairy
at https://www.thebakingfairy.net/2016/07/triple-chocolate-poke-cake/