grilled chicken & fruit cobb salad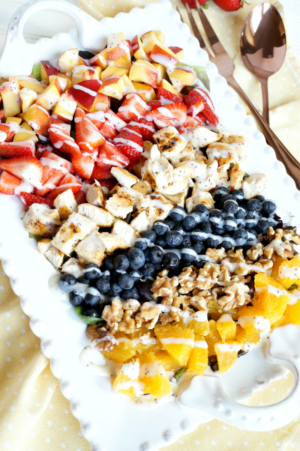 Author:
Valentina | The Baking Fairy
Recipe type:
Meat & Seafood
2 boneless, skinless chicken breasts
1 tbsp olive oil
salt & pepper to taste
1 cup sliced strawberries
1 cup blueberries
2 peaches, diced
2 oranges, sectioned (cut without their white fibers)
½ cup walnuts
8 cups spring mix salad
First, toast your walnuts. Spread them in a single layer in a nonstick pan over medium heat, and toast them, moving the pan often to make sure you don't get burnt spots. When the nuts are warmed through and fragrant, they're ready! Set aside.
Next, cook your chicken. Salt and pepper on both sides. Heat up a large nonstick pot or grill pan with the olive oil over medium-high heat.
When the oil shimmers, add in your chicken breasts. Cook for about 10 minutes, until they are opaque and the top has started turning white.
Flip them, and cook them for about 10 more minutes, until cooked through and with no traces of pink. Let it rest for a few minutes before cutting into cubes.
In a large serving platter, arrange the salad leaves in an even flat layer.
Arrange the cut fruit, chicken, and toasted walnuts in even rows.
Top with your favorite dressing (I used poppyseed) and serve immediately!
Recipe by
The Baking Fairy
at https://www.thebakingfairy.net/2016/08/grilled-chicken-fruit-cobb-salad/