garlic shrimp caesar salad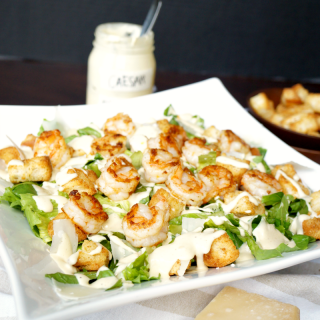 Author:
Valentina | The Baking Fairy
*for the dressing*
1 cup mayonnaise
juice of ½ lemon
1 tbsp Dijon mustard
2-3 anchovy fillets
1 tsp Worcestershire sauce
½ cup freshly grated parmesan cheese
¼ tsp salt
¼ tsp pepper
2 garlic cloves
*for the croutons*
½ loaf French bread, cut into cubes
½ stick (1/4 cup) unsalted butter, melted
¼ cup olive oil
1 tsp garlic powder
1 tsp onion powder
1 tsp oregano
1 tsp dry parsley
1 tsp dry basil
1 tsp salt
*for the salad*
8 cups fresh romaine lettuce, washed and chopped
¼ cup shaved Parmesan cheese
1 lb raw shrimp, peeled and deveined
2-3 garlic cloves, finely minced
2 tbsp olive oil
salt and pepper to taste
First, prepare the dressing. In a blender or food processor, combine all of the dressing ingredients, and pulse until smooth and creamy. Set aside until ready to use.
Next, make the croutons. Preheat oven to 375F, and spread the cubed bread in a single layer on a baking sheet. Bake until bread is dry and lightly golden brown, about 10 minutes.
In a large bowl, combine the melted butter, olive oil, and spices. Toss in the dried bread cubes, then place them back on the baking sheet, and bake for about 10 more minutes. Set aside until ready to use.
When ready to serve, prepare the shrimp. In a large nonstick pan, heat the olive oil and garlic over medium-high heat. As soon as the garlic starts to sizzle, add in the shrimp.
Cook for 2-3 minutes, then flip, season with s&p, and cook for a couple more minutes. The shrimp should be light pink and completely opaque, with a lightly crispy golden crust.
In a serving dish, arrange the lettuce, top with the shrimp, croutons, parmesan shavings, and finally the dressing. Serve immediately!
Recipe by
The Baking Fairy
at https://www.thebakingfairy.net/2016/08/garlic-shrimp-caesar-salad/