Blackberry Pecan Streusel Muffins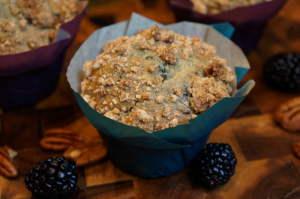 Author:
Valentina | The Baking Fairy
for the batter
2 eggs
½ cup white granulated sugar
¾ cup packed dark brown sugar
½ cup vegetable oil
1 cup sour cream
1 tsp vanilla extract
2 cups unbleached all-purpose flour
½ tsp baking soda
½ tsp salt
1 tsp cinnamon
1 cup blackberries, rinsed and dried
½ cup pecans, roughly chopped
for the streusel
4 tbsp melted unsalted butter
½ cup unbleached all-purpose flour
⅓ cup packed dark brown sugar
¼ tsp cinnamon
pinch of salt
Preheat the oven to 400F, and line a muffin pan with liners.
In a large bowl, whisk together the eggs and sugars. Add in the vanilla, oil, and sour cream, and mix until well-combined.
Switch to a spatula, then pour in the flour, baking soda, salt, and cinnamon, mixing until just combined. Fold in the blackberries and pecans, crushing the blackberries a little while mixing.
Divide batter evenly into 12 muffin cups, then set aside while you make the streusel.
In a small bowl, melt the butter. Add in the flour, sugar, cinnamon, and salt, and mix with a fork until large clumps form but there is no visible flour.
Sprinkle the streusel on top of your muffin batter, then bake in your preheated oven for 20 minutes until muffins are golden brown, and a toothpick inserted in the center comes out clean with a few crumbs. Let cool slightly and enjoy!
Recipe by
The Baking Fairy
at https://www.thebakingfairy.net/2014/01/blackberry-pecan-streusel-muffins/