veggie alfredo stuffed shells with bacon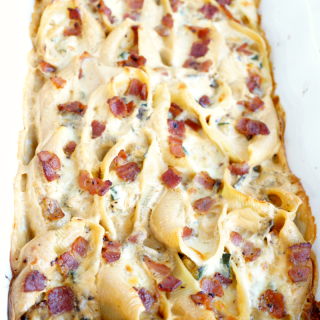 Author:
Valentina | The Baking Fairy
½ package jumbo shells (about 25-30 shells)
1 15oz jar alfredo sauce
*for the filling*
½ lb bacon, diced
2 cups sliced mushrooms
2 cups diced zucchini
1 lb ricotta cheese
2 cups shredded mozzarella cheese
½ cup freshly grated parmesan cheese
½ tsp garlic powder
½ tsp onion powder
¼ tsp paprika
salt & pepper to taste
First, cook the shells. Bring a large pot of water to a boil, and cook shells 1-2 minutes less than the package directions (should be somewhere around 5-6 minutes). When cooked, drain the shells and separate them out on a baking sheet so they don't stick together. Set aside.
Now, cook the bacon to desired crispiness. When ready, set on a plate lined with a paper towel to pick up excess grease.
Using the same pan you cooked the bacon in, turn it to medium-high heat and add in the zucchini and mushrooms (add a little olive oil if the pan isn't greased enough). Season with some salt and pepper, and saute until the veggies are soft.
In a large bowl, combine the ricotta, mozzarella, parmesan, vegetables, and most of the bacon. Save some bacon for topping! Add in the seasonings, and stir everything together.
At this point, turn oven to 350F. Grease a 9x13 baking pan, and spoon a little bit of alfredo sauce on the bottom. Stuff your shells with the prepared filling, and arrange in the pan. Top with the rest of the alfredo sauce, and sprinkle the reserved bacon on top. Add about ¼ cup of water to the bottom of the pan.
Bake until crusty and bubbly, about 25 minutes. Serve immediately!
Recipe by
The Baking Fairy
at https://www.thebakingfairy.net/2016/09/veggie-alfredo-stuffed-shells-bacon/