crispy chicken tortilla soup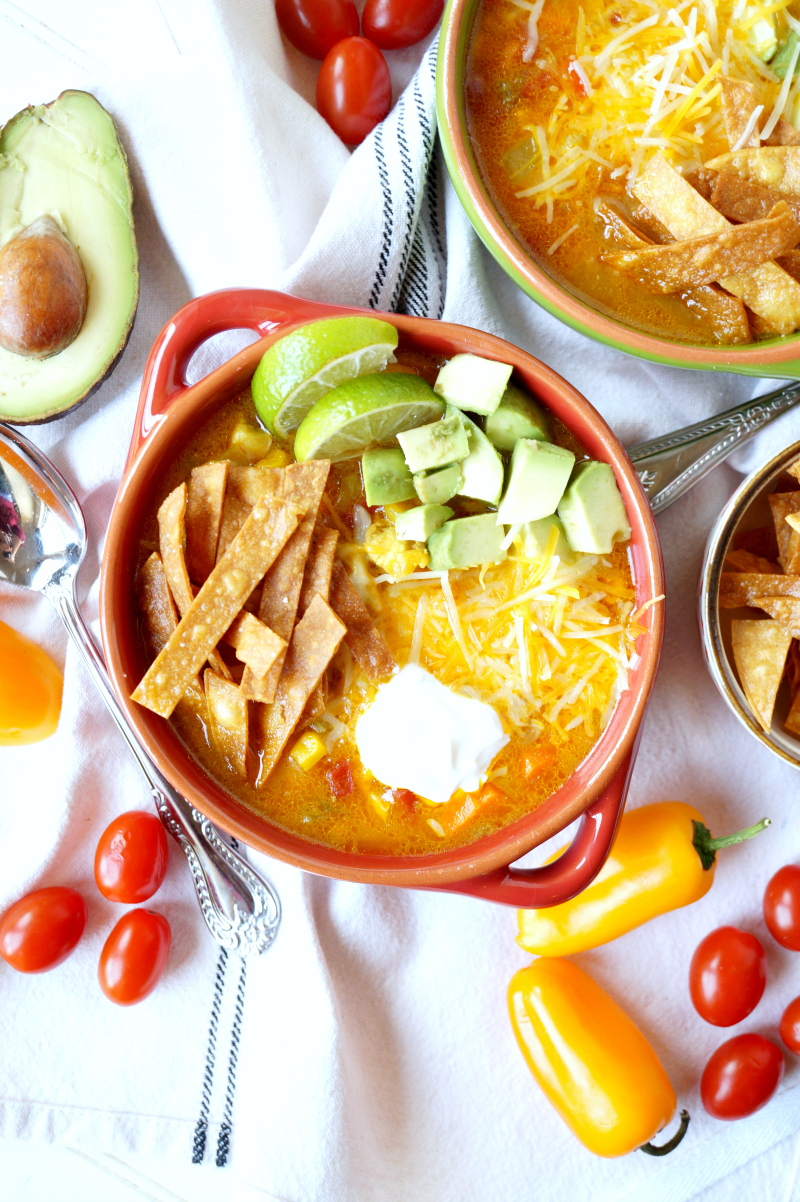 Author:
Valentina | The Baking Fairy
Recipe type:
Meat & Seafood
1 tbsp olive oil
4 boneless skinless chicken thighs or breasts, cut into chunks
2 stalks celery
½ cup diced onion
½ cup diced carrot
1 cup diced bell pepper
1 14oz can diced tomatoes
1 tsp paprika
1 tsp turmeric
1 tsp garlic powder
1 tsp onion powder
salt & pepper, as needed
¼ cup milk
2 tbsp cornstarch
*for the crispy tortilla strips*
4-5 thin corn tortillas
2-3 cups vegetable oil, for frying
*to serve*
shredded Mexican blend cheese
sour cream
diced avocado
lime slices
In a large soup pot, heat the olive oil over medium-high heat.
Add in the pieces of chicken, and season with salt and pepper. Cook until lightly browned on all sides.
Add in the celery, onion, carrot, and bell pepper. Sprinkle in the paprika, turmeric, garlic powder, and onion powder, and mix everything together. Continue to cook until veggies are soft and fragrant, 5-6 minutes.
Add in the can of diced tomatoes. In a small bowl, whisk together the milk and cornstarch, and add that into the pot as well. Finally, add enough water to the pot to just cover all the veggies and chicken.
Cover, and allow soup to cook for at least one hour.
Meanwhile, you can prepare the crispy tortilla strips. First, cut your corn tortillas into strips.
In a small pot, heat the vegetable oil over medium-high. My pro-tip is to have a toothpick floating in the oil... once you see small bubbles forming all around the toothpick, it means your oil is hot enough!
Add in the tortilla strips a handful at a time, making sure to not crowd the pan. Cook until lightly golden brown, then transfer to a plate lined with a paper towel to drain. Sprinkle with salt and set aside until needed.
When ready to serve, pour some soup into a bowl. Top with tortilla strips, shredded Mexican blend cheese, sour cream, diced avocado, and a squeeze of lime juice. Enjoy!
Recipe by
The Baking Fairy
at https://www.thebakingfairy.net/2017/01/crispy-chicken-tortilla-soup/