grilled honey mustard chicken sliders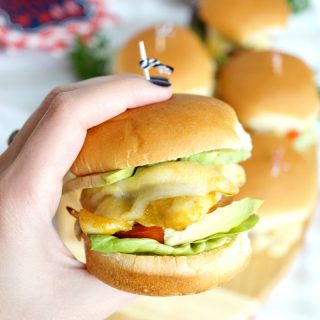 Author:
Valentina | The Baking Fairy
1 package (12) Pepperidge Farm Sweet & Soft Slider Buns
1 lb boneless, skinless chicken breast, cut into tenders
1 tbsp olive oil
2 tomatoes, sliced
1 cup lettuce leaves
12 slices provolone cheese
2 avocados, sliced
¼ cup mayonnaise
*for the honey mustard sauce*
3 tbsp Dijon mustard
3 tbsp honey
1 tbsp Worcestershire sauce
½ tsp garlic powder
½ tsp onion powder
¼ tsp paprika
¼ tsp turmeric
½ tsp salt
½ tsp pepper
In a small bowl, combine all the ingredients for the honey mustard sauce. Mix well, and set aside for now.
In a large nonstick pan, heat the olive oil over medium-high heat.
When oil is hot, add in the chicken breast pieces, and season with salt and pepper.
Cook undisturbed for 4-5 minutes, until chicken starts to look opaque, then flip and cook for 3-4 minutes more. Chicken should be completely white to golden brown, with no pink whatsoever.
Remove pan from heat, and pour the prepared honey mustard sauce on top. Toss until all the chicken pieces are evenly coated.
Lay out all the Pepperidge Farm slider buns on a serving platter, and open them. Spread some mayo on each bun, and top with some lettuce, tomato slices, and avocado slices.
Divide the cooked chicken evenly among the buns, and top each with a slice of provolone cheese. Sandwich the buns together and serve immediately!
Recipe by
The Baking Fairy
at https://www.thebakingfairy.net/2017/01/grilled-honey-mustard-chicken-sliders/