roasted sweet potato kale salad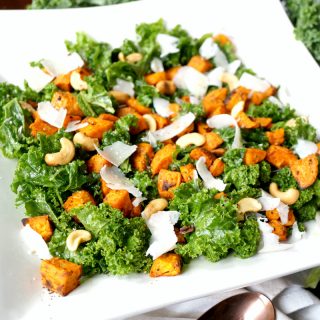 Author:
Valentina | The Baking Fairy
6-8 cups kale leaves
1 large sweet potato
1-2 tbsp coconut oil, melted
1 tsp Italian herb seasoning
⅓ cup roasted salted cashews
¼ cup freshly shaved parmesan
*for the dressing*
juice of ½ lemon (about ¼ cup)
¼ cup grated parmesan
½ cup olive oil
¼ tsp garlic powder
½ tsp salt
¼ tsp pepper
Preheat oven to 425F, and line a baking sheet with foil.
Wash your sweet potato, peel if desired, and cut into small cubes.
Toss with the melted coconut oil and Italian herb seasoning, and spread out in a single layer on the prepared baking sheet. Roast for 25-30 minutes, until crisp and golden brown on the outside and soft on the inside.
Next, prepare the kale. Remove the leaves from the hard stems, tear the leaves into pieces, and rinse thoroughly. Optionally, you can also "massage" the kale as you wash it, which helps break down some of the tough fibers and makes it a little more tender! To do that, just squeeze the kale leaves while they're soaking in the water. Super easy!
Once kale is washed, be sure to dry it very well, as it tends to hold a lot of water.
In the bottom of a serving bowl, whisk together the lemon juice, olive oil, parmesan, and spices for the dressing. Mix in the kale, and toss lightly. Top salad with sweet potato pieces, shaved parmesan, and sweet potato. Serve immediately!
Recipe by
The Baking Fairy
at https://www.thebakingfairy.net/2017/01/roasted-sweet-potato-kale-salad/